king

king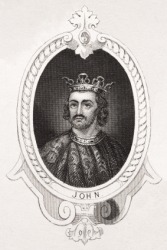 A portrait of a medieval king.
noun
The definition of a king is a male monarch who rules a kingdom or the person who is considered most important.

An example of a king is the male monarch in England.
An example of a king is the guy in the neighborhood who everyone considers most important and from whom everyone seeks approval.
---
king
a male ruler of a nation or state usually called a kingdom; male sovereign, limited or absolute; monarch

a man who is supreme or highly successful in some field: an oil king
something supreme in its class

a playing card with a conventionalized picture of a king on it

Checkers

a piece that has been crowned and can thus move backward as well as forward

Chess

the chief piece, which can move one square in any direction
Origin of king
Middle English from Old English
cyning,
akin to Old Norse
konungr,
Old High German
kuning
from Germanic an unverified form
kuningaz
from an unverified form
kunja-,
kin +
-ing-,
belonging to: probably basic sense, either "head of a kin" or "son of noble kin"
chief (in size, importance, etc.): often in comb.
the Three Kings
the three learned men from the East who came bearing gifts to the infant Jesus (Matt. 2:1-13)
King
1874-1950; Cdn. statesman: prime minister (1921-26; 1926-30; 1935-48)

1929-68; U.S. clergyman & leader in the civil rights movement: assassinated
---
king
noun
A male sovereign.

a. One that is supreme or preeminent in a particular group, category, or sphere: "In many countries, soccer is the king of sports" ( Cameron W. Barr )

b. A man chosen as the winner of a contest or the honorary head of an event: a homecoming king.

Games

a. Abbr. K A playing card bearing the figure of a king, ranking above a queen.

b. Abbr. K The principal chess piece, which can move one square in any direction and must be protected against checkmate.

c. A piece in checkers that has been moved to the last row on the opponent's side of the board and been crowned, thus becoming free to move both forward and backward.

Kings used with a sing. verb Bible
A king-size bed.
adjective
Principal or chief, as in size or importance.
Of or relating to a king-size bed: king sheets; a king bed skirt.
transitive verb
kinged, king·ing, kings
Games
To make (a piece in checkers) into a king; crown.
Origin of king
Middle English
from
Old English
cyning
; see
genə-
in Indo-European roots.
---
king

---