noun
The definition of a king is a male monarch who rules a kingdom or the person who is considered most important.

An example of a king is the male monarch in England.
An example of a king is the guy in the neighborhood who everyone considers most important and from whom everyone seeks approval.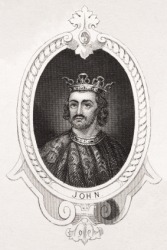 A portrait of a medieval king.
---
king definition by Webster's New World
noun
a male ruler of a nation or state usually called a kingdom; male sovereign, limited or absolute; monarch

a man who is supreme or highly successful in some field: an oil king
something supreme in its class

a playing card with a conventionalized picture of a king on it

Checkers

a piece that has been crowned and can thus move backward as well as forward

Chess

the chief piece, which can move one square in any direction
Origin: Middle English ; from Old English cyning, akin to Old Norse konungr, Old High German kuning ; from Germanic an unverified form kuningaz ; from an unverified form kunja-, kin plush -ing-, belonging to: probably basic sense, either "head of a kin" or "son of noble kin"
adjective
chief (in size, importance, etc.): often in combination
King, (William Lyon) Mackenzie 1874-1950; Cdn. statesman: prime minister (1921-26; 1926-30; 1935-48)

King, Martin Luther, Jr. 1929-68; U.S. clergyman & leader in the civil rights movement: assassinated
Webster's New World College Dictionary Copyright © 2010 by Wiley Publishing, Inc., Cleveland, Ohio. Used by arrangement with John Wiley & Sons, Inc.
---
king definition by American Heritage Dictionary
noun
A male sovereign.
One that is supreme or preeminent in a particular group, category, or sphere.
King

a. The perfect, omniscient, omnipotent being; God.

b. Christianity Jesus.

Games

a. Abbr. K A playing card bearing the figure of a king, ranking above a queen.

b. Abbr. K The principal chess piece, which can move one square in any direction and must be protected against checkmate.

c. A piece in checkers that has been moved to the last row on the opponent's side of the board and been crowned, thus becoming free to move both forward and backward.

Kings (used with a sing. verb) Abbr. K or Kgs. See Table at Bible.
adjective
Principal or chief, as in size or importance.
transitive verb
kinged
,
king·ing
,
kings
Games
To make (a piece in checkers) into a king; crown.
Origin: Middle English, from Old English cyning; see genə- in Indo-European roots.
, Billie Jean Moffitt Born 1943.
American tennis player who won 20 titles at Wimbledon (6 singles, 10 women's doubles, and 4 mixed doubles) and 4 U.S. Open championships (1967, 1971, 1972, and 1974).
, Coretta Scott 1927-2006.
American civil rights leader noted for her work on behalf of the Southern Christian Leadership Conference and the Martin Luther King, Jr., Memorial Foundation after the assassination of her husband, Martin Luther King, Jr. (1968).
, Martin Luther, Jr. 1929-1968.
American cleric whose eloquence and commitment to nonviolent tactics formed the foundation of the civil rights movement of the 1950s and 1960s. Among the many peaceful demonstrations he led was the 1963 March on Washington, at which he delivered his "I have a dream" speech. He won the 1964 Nobel Peace Prize, four years before he was assassinated in Memphis, Tennessee.
, Maxine Known as "Micki." Born 1944.
American diver who dominated women's diving in the 1960s. She was injured while competing in the 1968 Olympics but won one Olympic gold medal in 1972.
, Richard 1825-1885.
American steamboat captain and rancher whose 600,000-acre ranch in Texas was the largest in the United States.
, Rufus 1755-1827.
American politician and diplomat. A member of the Continental Congress (1784-1787) and the Constitutional Convention (1787), he served as ambassador to Great Britain (1796-1803 and 1825-1826).
, William Lyon Mackenzie 1874-1950.
Canadian politician who three times served as prime minister (1921-1926, 1926-1930, and 1935-1948).
The American Heritage® Dictionary of the English Language, 4th edition Copyright © 2010 by Houghton Mifflin Harcourt Publishing Company. Published by Houghton Mifflin Harcourt Publishing Company. All rights reserved.
---
king - Phrases/Idioms