baron
bar·on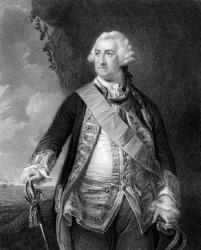 A portrait of an 18th century baron.
noun
The definition of baron is the name of a low rank of nobility which comes below the grade of count or viscount or is a wealthy businessman who is a leader in his particular industry.

A nobleman who owned land and was allowed into parliament is an example of a baron.
A tycoon is an example of a baron.
---
Baron
state of the E U.S., on the Atlantic: one of the 13 original states; 1,954 sq mi (5,060 sq km); cap. Dover: abbrev. DE or Del

river flowing from the Pennsylvania-New York and Pennsylvania-New Jersey borders into Delaware Bay: c. 280 mi (451 km)
Origin of Baron
after Baron De La Warr
baron
in the Middle Ages, a feudal tenant of the king or of any higher-ranking lord; nobleman
a member of the lowest rank of the British hereditary peerage
this rank or its title
a European or Japanese nobleman of like rank
⌂ a man having great or absolute power in some field of business or industry; magnate: an oil baron
a large joint of meat, including the whole sirloin or both loins, with the backbone between
Origin of baron
Middle English and amp; Old French ; from Frankish an unverified form
baro,
freeman, man ; from Indo-European base an unverified form
bher-
, to carry from source bear
---
baron
noun
a. A British nobleman of the lowest rank.

b. A nobleman of continental Europe, ranked differently in various countries.

c. A Japanese nobleman of the lowest rank.

d. Used as the title for such a nobleman.

a. A feudal tenant holding his rights and title directly from a king or another feudal superior.

b. A lord or nobleman; a peer.

One having great wealth, power, and influence in a specified sphere of activity: an oil baron.
A cut of beef consisting of a double sirloin.
Origin of baron
Middle English, from Old French,
probably of Germanic origin
.
---
baron
---