angry
[aŋ′grē]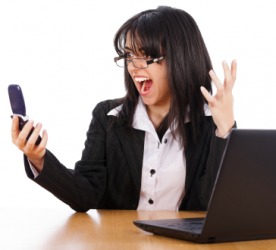 This woman is angry.
adjective
The definition of angry is feeling or showing strong discontent or resentment.

A person who is clenching his fists and shouting because someone broke his car window is an example of someone who is angry.
---
angry
---
angry
adjective
an·gri·er
,
an·gri·est
Feeling or showing anger; incensed or enraged: angry at my boss; angry with her.
Indicative of or resulting from anger: an angry silence.
Having a menacing aspect; threatening: angry clouds on the horizon.
Chiefly New England & Midland US Inflamed and painful: an angry sore.
Origin of angry
Middle English
angri
, from
anger
,
anger
; see
anger
.
Related Forms:
---
angry
Adjective
(comparative angrier, superlative angriest)
Displaying or feeling anger.

His face became angry.
An angry mob started looting the warehouse.

(said about a wound or a rash) Inflamed and painful.

The broken glass left two angry cuts across my arm.

(figuratively, said about the sky or the sea) Dark and stormy, menacing.

Angry clouds raced across the sky.
Origin
From Middle English, see anger
---