adjective
The definition of angry is feeling or showing strong discontent or resentment.

A person who is clenching his fists and shouting because someone broke his car window is an example of someone who is angry.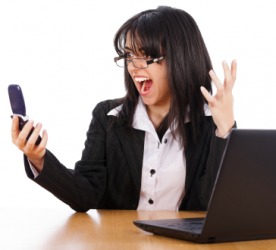 This woman is angry.
---
angry definition by Webster's New World
---
angry definition by American Heritage Dictionary
adjective
an·gri·er
,
an·gri·est
Feeling or showing anger; incensed or enraged: angry at a rude neighbor; angry with a salesclerk.
Indicative of or resulting from anger: an angry silence.
Having a menacing aspect; threatening: angry clouds on the horizon.
Chiefly New England & Midland U.S. Inflamed and painful: an angry sore.
Origin: Middle English angri, from anger, anger; see anger.
Related Forms: