cauldron

caul·dron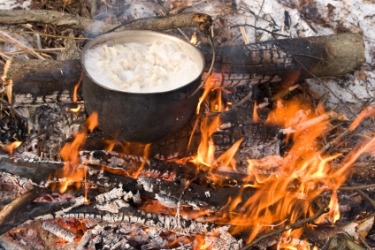 A caldron on a campfire.
noun
The definition of a cauldron is a very large iron pot that is used for boiling or cooking, or a situation where there are a lot of strong and usually angry emotions.

An example of a cauldron is a big black pot in which you might cook chili.
An example of a cauldron is a meeting between two people who are suing each other for divorce and who feel very angry towards each other.
---
cauldron
a large kettle or boiler
a violently agitated condition like the boiling contents of a cauldron
Origin of cauldron
Middle English and Anglo-French
caudron
from Old French
chauderon
from Classical Latin
caldaria
: see caldarium
---
cauldron
also cal·dron
noun
A large vessel, such as a kettle or vat, used for boiling.
A state or situation of great distress or unrest felt to resemble a boiling kettle or vat: a cauldron of conflicting corporate politics.
Origin of cauldron
Middle English
caudron, caldroun
from
Anglo-Norman
cauderon, caldroun
diminutive of
caudere
caldere
cooking pot
from
Late Latin
caldāria
pot for boiling
from feminine of
Latin
caldārius
suitable for warming
from
calidus
warm
; see
kelə-
1
in Indo-European roots.
---
cauldron

Origin
From Middle English, from Old Northern French caudron (Old French chaudron), itself from a derivative of Latin calidārium, caldārium from calidus ("hot").
---