baggage

bag·gage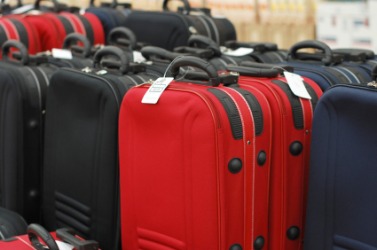 Several pieces of baggage, or luggage.
noun
The definition of baggage is an abstract thing or idea which weighs upon a person, and ends up obstructing or inhibiting him.

An example of baggage is the fear a woman who has been cheated on in past relationships carries with her as she starts seeing someone new.

Baggage is defined as the suitcases, backpacks, or other various containers a person uses when traveling.

An example of baggage are the suitcases packed with personal items you take with you on vacation.
---
baggage
the trunks, bags, etc. of a traveler, esp. when packed and being used on a trip; luggage
the supplies and gear of an army

Origin of baggage

assoc., in sense "camp follower," with "army baggage," but < ? Fr bagasse, harlot < OFr baiasse, ult. < Ar bagh?y, pl. bagh?y?, whore, prostitute

a prostitute or wanton
a saucy, impudent, or lively girl

burdensome, superfluous, or outdated ideas, practices, etc.
past experiences or behavior, emotional or psychological characteristics, etc. that may affect a person's behavior or relations with others, usually in a limiting or destructive way
Origin of baggage
Middle English and Old French
bagage
from
bagues,
baggage from Medieval Latin
bagga
, chest, bag, probably from Old Norse
baggi,
bag
---
baggage
noun
The trunks, bags, parcels, and suitcases in which one carries one's belongings while traveling; luggage.
The movable equipment and supplies of an army.
Emotions or thoughts that stem from painful or unpleasant past experiences and that affect one's outlook or behavior: "I lugged a considerable amount of psychological baggage from my adolescence" ( Stephen S. Hall )
Archaic

a. A woman prostitute.

b. A girl or young woman, especially one is who impudent.
Origin of baggage
Middle English
bagage
from
Old French
bague
bundle
perhaps of Germanic origin
Old Norse
baggi
bag, bundle
Sense 4, perhaps from
French
bagasse
from
Provençal
bagassa
ultimately from
Arabic
baġī
prostitute
from
baġā
to fornicate
bġy
---
baggage

Noun
(usually uncountable, plural baggages)
(usually uncountable) Luggage; traveling equipment

Please put your baggage in the trunk.

(uncountable, informal) Factors, especially psychological ones, which interfere with a person's ability to function effectively..

He's got a lot of emotional baggage.

1897, Charles Whibley, A Book of Scoundrels:

But he had a roving eye and a joyous temperament; and though he loved me better than any of the baggages to whom he paid court, he would not visit me so often as he should.

1910, Gertrude Hall, Chantecler:

But your perverse attempts to wring blushes from little baggages in convenient corners outrage my love of Love!

(military, countable and uncountable) An army's portable equipment; its baggage train.
Origin
From Middle English bagage, from Old French bagage, from bague ("bundle"), from Germanic (compare bag).
---