noun
Baggage is defined as the suitcases, backpacks, or other various containers a person uses when traveling.

An example of baggage are the suitcases packed with personal items you take with you on vacation.

The definition of baggage is an abstract thing or idea which weighs upon a person, and ends up obstructing or inhibiting him.

An example of baggage is the fear a woman who has been cheated on in past relationships carries with her as she starts seeing someone new.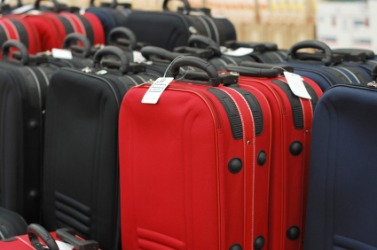 Several pieces of baggage, or luggage.
---
baggage definition by Webster's New World
noun
the trunks, bags, etc. of a traveler, esp. when packed and being used on a trip; luggage
the supplies and gear of an army

Origin: assoc., in sense "camp follower," with "army baggage," but < ? Fr bagasse, harlot < OFr baiasse, ult. < Ar baghīy, pl. baghāyā, whore, prostitute

a prostitute or wanton
a saucy, impudent, or lively girl

burdensome, superfluous, or outdated ideas, practices, etc.
Origin: Middle English and amp; Old French bagage ; from bagues, baggage ; from Midieval Latin bagga, chest, bag, probably ; from Old Norse baggi, bag
Webster's New World College Dictionary Copyright © 2010 by Wiley Publishing, Inc., Cleveland, Ohio. Used by arrangement with John Wiley & Sons, Inc.
---
baggage definition by American Heritage Dictionary
noun
The trunks, bags, parcels, and suitcases in which one carries one's belongings while traveling; luggage.
The movable equipment and supplies of an army.
Superfluous or burdensome practices, regulations, ideas, or traits.

a. A woman prostitute.

b. An impudent girl or woman.
Origin: Middle English bagage, from Old French bague, bundle, perhaps of Germanic origin. Sense 4, perhaps from French bagasse, from Provençal bagassa, ultimately from Arabic baġīy, prostitute, from baġā, to fornicate; see bġy in Semitic roots.