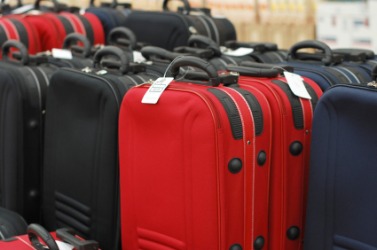 Several pieces of baggage, or luggage.
noun
Luggage is defined as suitcases or other bags that you pack when traveling.

A wheelie suitcase that you put your swimsuits and pants into when going on vacation is an example of your luggage.
---
luggage
suitcases, valises, trunks, etc.; baggage
Origin of luggage
from lug + -age
---
luggage
noun
Containers for a traveler's belongings.
The cases and belongings of a traveler.
Origin of luggage
Probably
lug
2
(bag)gage
---
luggage

Origin
1590s, lug ("drag") +"Ž -age ("(noun)") - literally "that which is lugged, dragged around". Duplicate -g- is to clarify pronunciation of the vowel "˜u' (which is pronounced unchanged from lug). Compare baggage.
---