no

no.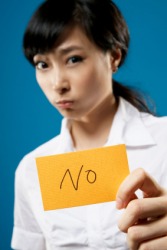 The answer is no!
adjective
The definition of no is not any, not one or hardly any.

An example of no used as an adjective is, "There are no toys left in the store."
adverb
No means the opposite of yes and is used to express denial or disagreement.

An example of no used as an adverb is, "There will be no more crying allowed!"
interjection
No is defined as a way to express disbelief or refusal.

An example of no used as an interjection is, "No! I will not hurry up!"
---
no
not: whether or no
not in any degree; not at all: no worse
nay; not so: the opposite of yes, used to deny, refuse, or disagree
Origin of no
Middle English from Old English
na
from
ne a
, literally , not ever from Indo-European base an unverified form
ne, n?
, negative particle from source Sanskrit
ná
, Classical Greek
ne-
, Classical Latin
ne-
, Gothic and Old High German
ni
, Old Irish
no
it is not so; nay: the opposite of yes
it cannot be so: used to express surprise, disbelief, dismay, etc.
emphatically not: used to give force to a following negative statement or to introduce a fuller or more specific statement
not any; not a; not one: no errors
Origin of no
ME, form of
non, none
(see none) used only before a consonant < OE
nan
<
ne an
, lit., not one (see one)
noun
pl.

noes

or

nos
an utterance of no; refusal or denial
a negative vote, or a person voting in the negative; nay
no can do
Slang
I (or we) cannot do it
north
northern

Origin of no

Classical Latin numero number
No
---
no
adverb
Used to express refusal, denial, disbelief, emphasis, or disagreement: No, I'm not going. No, you're wrong.
Not at all; not by any degree. Often used with the comparative: no better; no more.
Not: whether or no.
Informal Used to indicate agreement with a preceding statement, especially when followed by a stronger judgment supporting that statement: "The car is getting old." "No, I know. It must be 10 years old by now."
noun
pl.
noes,
A negative response; a denial or refusal: The proposal produced only noes.
A negative vote or voter.
interjection
Used to express strong refusal, doubt, or disbelief.
Origin of no
Middle English
from
Old English
nā
ne
not
; see
ne
in Indo-European roots.
ā
ever
; see
aiw-
in Indo-European roots.
No1
adjective
Not any; not one; not a: No cookies are left.
Not at all; not close to being: He is no child.
Hardly any: got there in no time flat. See Usage Note at nor1.
Origin of no
Middle English
variant of
non
from
Old English
nān
none
ne
not
; see
ne
in Indo-European roots.
ān
one
; see
one
.
No
No
no.
or No.
abbreviation
a. north

b. northern

number
---
no

Abbreviations
(electronics, of a relay) Normally open.
Abbreviations
The molecular formula for nitrogen dioxide.

In dynamic equilibrium with N₂O₄ - dinitrogen tetroxide
Abbreviations
Country code top-level domains
Active:  .ac  .ad  .ae  .af  .ag  .ai  .al  .am  .an  .ao  .aq  .ar  .as  .at  .au  .aw  .ax  .az  .ba  .bb  .bd  .be  .bf  .bg  .bh  .bi  .bj  .bm  .bn  .bo  .br  .bs  .bt  .bw  .by  .bz  .ca  .cc  .cd  .cf  .cg  .ch  .ci  .ck  .cl  .cm  .cn  .co  .cr  .cu  .cv  .cx  .cy  .cz  .de  .dj  .dk  .dm  .do  .dz  .ec  .ee  .eg  .er  .es  .et  .eu  .fi  .fj  .fk  .fm  .fo  .fr  .ga  .gd  .ge  .gf  .gg  .gh  .gi  .gl  .gm  .gn  .gp  .gq  .gr  .gs  .gt  .gu  .gw  .gy  .hk  .hm  .hn  .hr  .ht  .hu  .id  .ie  .il  .im  .in  .io  .iq  .ir  .is  .it  .je  .jm  .jo  .jp  .ke  .kg  .kh  .ki  .km  .kn  .kp  .kr  .kw  .ky  .kz  .la  .lb  .lc  .li  .lk  .lr  .ls  .lt  .lu  .lv  .ly  .ma  .mc  .md  .me  .mg  .mh  .mk  .ml  .mm  .mn  .mo  .mp  .mq  .mr  .ms  .mt  .mu  .mv  .mw  .mx  .my  .mz  .na  .nc  .ne  .nf  .ng  .ni  .nl  .no  .np  .nr  .nu  .nz  .om  .pa  .pe  .pf  .pg  .ph  .pk  .pl  .pm  .pn  .pr  .ps  .pt  .pw  .py  .qa  .re  .ro  .rs  .ru  .rw  .sa  .sb  .sc  .sd  .se  .sg  .sh  .si  .sk  .sl  .sm  .sn  .sr  .st  .su  .sv  .sy  .sz  .tc  .td  .tf  .tg  .th  .tj  .tk  .tl  .tm  .tn  .to  .tr  .tt  .tv  .tw  .tz  .ua  .ug  .uk  .us  .uy  .uz  .va  .vc  .ve  .vg  .vi  .vn  .vu  .wf  .ws  .ye  .yt  .za  .zm  .zw
Usage notes
This is the customary abbreviation of this term as used in case citations. See, e.g., The Bluebook: A Uniform System of Citation, Nineteenth Edition (2010), "Case Names and Institutional Authors in Citations", Table T6, p. 430-431.
Origin
Abbreviation of French word numéro.
Prefix
no-
(slang) Placed before a word to indicate negation of that word.
Origin
Derived from the word no used in attributive phrases.
---