experienced
ex·pe·ri·enced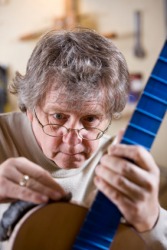 An experienced craftsman at work.
adjective
The definition of experienced is a person with training, knowledge or who has participated in something.

An example of experienced is someone who has worked in customer service for many years.
An example of experienced is a world traveler.
---
experienced
having had much experience, as in a particular occupation or activity
having learned from experience; made wise, competent, etc. by experience
---
experienced
adjective
Having had experience in an activity or in life in general: a highly experienced traveler.
Skilled or knowledgeable as the result of active participation or practice: consulted an experienced investment counselor.
---
experienced

Adjective
(comparative more experienced, superlative most experienced)
Having experience and skill in a subject.
---