adjective
The definition of experienced is a person with training, knowledge or who has participated in something.

An example of experienced is someone who has worked in customer service for many years.
An example of experienced is a world traveler.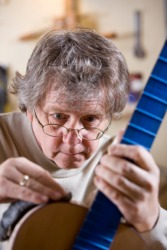 An experienced craftsman at work.
---
experienced definition by Webster's New World
adjective
having had much experience, as in a particular occupation or activity
having learned from experience; made wise, competent, etc. by experience
Webster's New World College Dictionary Copyright © 2010 by Wiley Publishing, Inc., Cleveland, Ohio. Used by arrangement with John Wiley & Sons, Inc.
---
experienced definition by American Heritage Dictionary
adjective
Having had experience in an activity or in life in general: a highly experienced traveler.
Skilled or knowledgeable as the result of active participation or practice: consulted an experienced investment counselor.
experienced
Variant of experience
noun
the act of living through an event or events; personal involvement in or observation of events as they occur
anything observed or lived through: an experience he'll never forget

all that has happened in one's life to date: not within his experience
everything done or undergone by a group, people in general, etc.

the effect on a person of anything or everything that has happened to that person; individual reaction to events, feelings, etc.

activity that includes training, observation of practice, and personal participation
the period of such activity
knowledge, skill, or practice resulting from this
Origin: Middle English ; from Old French ; from Classical Latin experientia, trial, proof, experiment ; from experiens, present participle of experiri, to try, test: see peril