noun
The definition of felt is a fabric made of animal fibers that have been twisted and pressed together.

An example of felt is flat pieces of dyed wool that are used in children's crafting projects.
verb
Felt is defined as to twist and compress animal fibers together to create a matted fabric.

An example of felt is putting a wool knit purse in the washing machine with hot water for a long time causing the fabric to mat up into a springy pad.

Felt means to have had a feeling.

An example of felt is someone feeling another person touch their arm.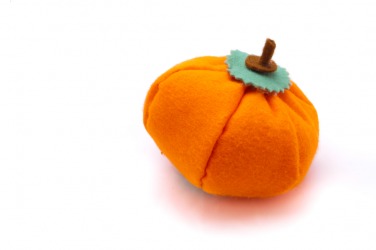 A pumpkin made from felt.
---
felt definition by Webster's New World
noun
a fabric of wool, often mixed with fur or hair or with cotton, rayon, etc., the fibers being worked together by pressure, heat, chemical action, etc. instead of by weaving or knitting
any fabric or material with a fuzzy, springy surface like that of felt; esp., a heavy insulating material made of asbestos fibers matted together
anything made of felt
Origin: Middle English ; from Old English akin to German filz, Dutch filt (basic sense, "cloth made by pounding or beating") ; from Indo-European base an unverified form pel-, to beat, strike from source Classical Latin pellere, to beat, drive
transitive verb
to make into felt
to cover with felt

to cause (fibers) to mat together
intransitive verb
to become matted together
transitive verb
,
intransitive verb
feel
Webster's New World College Dictionary Copyright © 2010 by Wiley Publishing, Inc., Cleveland, Ohio. Used by arrangement with John Wiley & Sons, Inc.
---
felt definition by American Heritage Dictionary
noun
a. A fabric of matted, compressed animal fibers, such as wool or fur, sometimes mixed with vegetable or synthetic fibers.

b. A material resembling this fabric.

Something made of this fabric.
adjective
Made of, relating to, or resembling felt.
verb
felt·ed
,
felt·ing
,
felts
verb
, transitive
To make into felt.
To cover with felt.
To press or mat (something) together.
verb
, intransitive
To become like felt; mat together.
Origin: Middle English, from Old English; see pel-5 in Indo-European roots.
Related Forms:
verb
Past tense and past participle of
feel
.
felt
Variant of feel
transitive verb
felt, feeling
to touch or handle in order to become aware of; examine or test by touching or handling
to perceive or be aware of through physical sensation: to feel rain on the face

to experience (an emotion or condition): to feel joy, pain, etc.
to be moved by or very sensitive to: to feel death keenly

to be aware of through intellectual perception: to feel the weight of an argument
to think or believe, often for unanalyzed or emotional reasons: he feels that we should go
Origin: Middle English felen ; from Old English felan, akin to German fühlen and amp; Classical Latin palpare, to stroke ; from uncertain or unknown; perhaps Indo-European base an unverified form pel-, to fly, flutter, cause to tremble from source Old English fīfealde, German falter, butterfly
intransitive verb
to have physical sensation; be sentient
to appear to be to the senses, esp. to the sense of touch: the water feels warm
to have the indicated emotional effect: it feels good to be wanted
to try to find something by touching; grope (for)
to be or be aware of being: to feel sad, sick, certain, etc.
to be moved to sympathy, pity, etc. (for)
noun
the act of feeling; perception by the senses
the sense of touch
the nature of a thing as perceived through touch: the feel of wet sawdust
an emotional sensation or effect: the feel of happiness
instinctive ability or appreciation: a feel for design