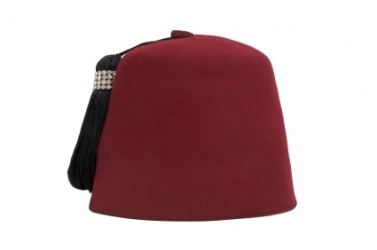 A fes or fez.
---
fez definition by Webster's New World
noun
pl.
fezzes
a brimless felt hat shaped like a truncated cone, usually red, with a flat crown from which a long, black tassel hangs: the Turkish national headdress of men in the 19th and early 20th cent.
Origin: French ; from Turkish fes, after Fez
city in NC Morocco: pop. 564,000
Webster's New World College Dictionary Copyright © 2010 by Wiley Publishing, Inc., Cleveland, Ohio. Used by arrangement with John Wiley & Sons, Inc.
---
fez definition by American Heritage Dictionary
noun
pl.
fez·zes
A man's felt cap in the shape of a flat-topped cone, usually red with a black tassel hanging from the crown, worn chiefly in the eastern Mediterranean region.
Origin: French, from Turkish fes, from Fez.
or Fès
A city of north-central Morocco northeast of Casablanca. The oldest part of the city was founded in the 9th century and reached the height of its influence in the mid-14th century. Population: 946,000.