done

done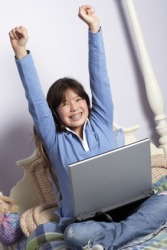 My homework is done!
adjective
The definition of done is finished or completed.

An example of something done is a meal that is fully cooked.
verb
Done is defined as to have accomplished something in the past.

An example of to have done something is to have completed homework yesterday.
---
done
completed; ended
sufficiently cooked
socially acceptable because acceptable to arbiters of good taste: usually in a negative construction: it just isn't done
done (for)
Informal
dead, ruined, etc.
discarded or dismissed as a failure
---
done
verb
adjective
Having been carried out or accomplished; finished: a done deed.
Cooked adequately.
Socially acceptable: Spitting on the street is just not done in polite society.
Informal Totally worn out; exhausted.
Related Forms:
---
done

Adjective
(comparative more done, superlative most done)
Verb
past participle of do

I have done my work.

(African American Vernacular, Southern American English, auxiliary verb, taking a past tense) Used in forming the perfective aspect.

I done did my best to raise y'all.
---