frozen

fro·zen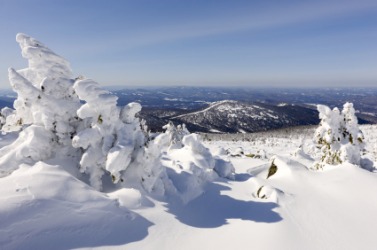 A frozen landscape.
adjective
The definition of frozen is a person or something turned into ice, damaged by extreme cold, preserved or made motionless by extreme cold, or without affection or in a fixed position.

An example of frozen is a bag of peas just removed from the freezer.
An example of frozen is a nose exposed to freezing cold weather.
An example of frozen is snow.
An example of frozen is a person who shows no emotion.
---
frozen
turned into or covered with ice; congealed by cold
injured, damaged, or killed by freezing
having heavy frosts and extreme cold: the frozen polar wastes
preserved or prepared by freezing, as food
affected as if turned into ice; made motionless: frozen with terror
without warmth or affection in behavior, manners, etc.
arbitrarily kept at a fixed level or in a fixed position
not capable of being spent, transferred, sold, etc., as a result of legal action: frozen assets
Origin of frozen
Middle English
---
frozen
verb
adjective
Made into, covered with, or surrounded by ice.
Very cold: the frozen North.
Preserved by freezing: frozen meat.

a. Rendered immobile: frozen in their tracks with fear.

b. Immobile, as from pain or inflammation. Used of a joint: a frozen shoulder.

Expressive of cold unfriendliness or disdain: a frozen look on their faces.

a. Kept at a fixed level: frozen rents.

b. Impossible to withdraw, sell, or liquidate: frozen assets.
---
frozen

Adjective
(comparative more frozen, superlative most frozen)
immobilized

I just stood frozen as the robber pointed at me with his gun.

(of a bank account) in a state such that transactions are not allowed.
Verb
past participle of freeze

The mammoth was frozen shortly after death.
---
frozen - Computer Definition
---