molten

mol·ten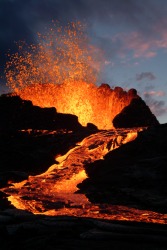 Molten lava streams down the side of a volcano.
adjective
The definition of molten is melted.

An example of something molten is hot stone in a lava flow.
---
molten
Origin of molten
Middle English
melted or liquefied by heat

Now Rare

made by being melted and cast in a mold
---
molten
adjective
Made liquid by heat; melted: molten lead.
Made by melting and casting in a mold.
Brilliantly glowing, from or as if from intense heat: "A huge red bed of coals blazed and quivered with molten fury" ( Richard Wright )
verb
Archaic
A past participle of
melt
---
molten

Adjective
(comparative more molten, superlative most molten)
Melted.

molten wax
molten rock

Made from molten substance.
Glowing red-hot.
Verb
Past participle of melt
---