immobile

im·mo·bile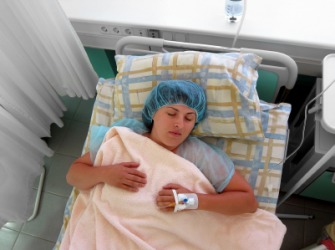 A woman immobile after surgery.
adjective
The definition of immobile is something that is not moving or that is incapable of being moved.

A person who is bedridden is an example of someone who is immobile.
A huge piece of furniture that is too heavy to move is an example of something that is immobile.
---
immobile
not movable; firmly set or placed; stable
not moving or changing; motionless
Origin of immobile
Middle English
inmobill
from Old French
immobile
from Classical Latin
immobilis
: see in- and mobile
---
immobile
adjective
Immovable; fixed: an immobile rock formation.
Not moving; motionless: The patient in the coma was immobile.
Not very mobile or agile; capable of moving only slowly: an immobile quarterback.
Related Forms:
---
immobile

Origin
From Old French immobile, from Latin immōbilis.
---