Arctic

Arc·tic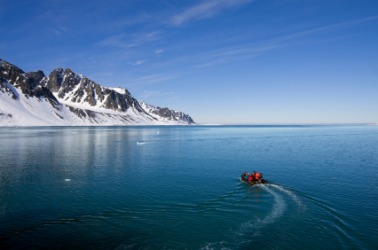 A boat travels the Arctic Ocean.
adjective
Arctic is defined as a way to describe something very cold, like freezing icy temperatures or a person's disinterested or chilly attitude.

A person who ignores another person is an example of being in an Arctic mood.

The definition of Arctic is a name for anything associated with the North Pole region.

An example is the Arctic Ocean near the North Pole.
noun
An Arctic means a waterproof shoe that is worn over a regular shoe.

Putting on a pair of galoshes over tennis shoes is an example of wearing Arctics.
---
arctic
of, characteristic of, or near the North Pole or the region around it
very cold; frigid
Origin of arctic
Middle English
artik
from Old French
artique
from Classical Latin
arcticus
from Classical Greek
arktikos
, literally , of the (constellation of the) Bear (Gr
arktos
), northern, arctic
the Arctic
the region around the North Pole, including the Arctic Ocean and the lands in it north of the 70° latitude
---
arctic
adjective
Extremely cold; frigid. See Synonyms at
cold
.
noun
A warm waterproof overshoe.
Origin of arctic
Alteration
(
influenced by
Latin
arcticus
)
of
Middle English
artik
northern
from
Medieval Latin
articus
from
Latin
arcticus
from
Greek
arktikos
from
arktos
bear, the northern constellation Ursa Major
; see
&rlowring;tko-
in Indo-European roots.
Arctic
A region between the North Pole and the northern timberlines of North America and Eurasia.
Related Forms:
---
arctic

Adjective
(comparative more arctic, superlative most arctic)
Origin
Old French artique, from Ancient Greek ἀρκτικός (arktikos, "of the bear, northern"), a reference to the northerly constellation Ursa Major, from ἄρκτος (arktos, "bear").
Proper noun
A region of the Earth above the Arctic Circle, containing the North Pole.
Usage notes
Like Antarctic, this word was originally pronounced without /k/, but the spelling pronunciation has become the more common one. The "c" was originally added to the spelling for etymological reasons, and its pronunciation returned thereafter.
Adjective
(not comparable)
Of or pertaining to the Arctic.
Origin
From Old French artique (with -c- reintroduced after Latin in the 17th century), from Latin arcticus, from Ancient Greek ἀρκτικός (arktikos, "northern, of the (Great) Bear"), from ἄρκτος (arktos, "bear, Ursa Major").
---