Antarctic

ant·arc·tic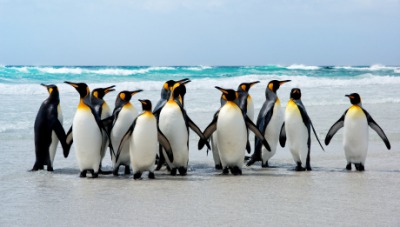 These penguins are Antarctic animals.
adjective
The definition of Antarctic is anything that is closely located or related to the South Pole.

An example of an animal that may be Antarctic is the penguin.
---
antarctic
of or near the South Pole or the region around it
Origin of antarctic
Middle English
antarik
from Old French
antartique
from Classical Latin
antarcticus
from Classical Greek
antarktikos
, southern from
anti-
, opposite +
arktikos
, arctic
the Antarctic
the region including Antarctica & the Antarctic Ocean
---
antarctic

Adjective
(comparative more antarctic, superlative most antarctic)
Alternative spelling of Antarctic.
Usage notes
The word was originally pronounced without /k/, but the spelling pronunciation has become the more common one. The "c" was originally added to the spelling for etymological reasons, and its pronunciation returned thereafter.
Origin
From Old French antarctique, from Latin antarcticus, from Ancient Greek ανταρκτικός (antarktikós), from αντί (anti-, "opposite") + άρκτος (arktos, "Great Bear") + ικός (-ikos, "-ic").
---