polar

po·lar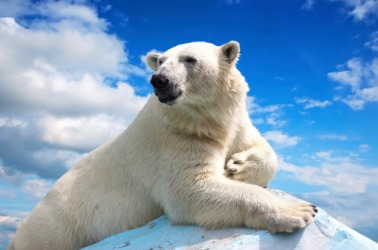 Polar Bear
adjective
The definition of polar is something related to the South or North poles.

An example of polar is a polar bear from the Arctic.
---
polar
of, relating to, or near the North or South pole
coming from the region near the North or South pole

of a pole or poles
having polarity
opposite in character, nature, direction, etc.
central and guiding, like the earth's pole or the polestar
Origin of polar
Medieval Latin
polaris
from Classical Latin
polus:
see pole
---
polar
adjective
a. Of or relating to a pole.

b. Measured from or referred to a pole: polar distance; polar diameter.

Relating to, connected with, or located near the North Pole or South Pole.

a. Passing over a planet's north and south poles: a polar orbit.

b. Traveling in an orbit that passes over a planet's north and south poles.

Serving as a guide, as a polestar or a pole of the earth.
Occupying or characterized by opposite extremes: "In creative territory

[they]

make a strange yet ineluctable couple, more complementary, even polar, than twin-like" ( Josh Rubins )
Central or pivotal.

a. Chemistry Relating to or characterized by a dipole: a polar molecule.

b. Ionizing when dissolved or fused: polar bonds or linkages.
---
polar

Adjective
(not comparable)
Origin
From Late Latin polāris
---