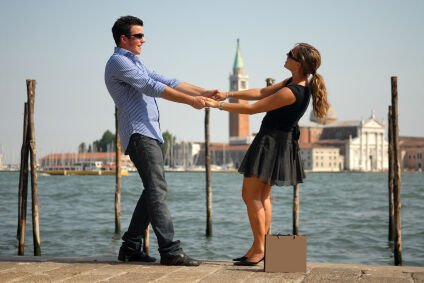 Frequently, we think of Italian as being a rather romantic language; so, while you are studying the Italian language, you might start to wonder what are some romantic Italian phrases?
The following is a list of various romantic Italian phrases as well as the English translation. Therefore, you will know what it means and can use it the next time you speak or write to your loved one!
Il colpo di fulmine é la cosa che fa guadagnare piu tempo.
Love at first sight is something that lets you waste no time.
Grazie amore per sapermi amare.
Thank you, my love, for knowing how to love me.
Amore é gioia, amore é gelosia, amore é soffrire, amore é tenerezza, amore é calore. Amore sei tu!
Love is joy, love is jealousy, love is suffering, love is tenderness, love is hot. Love is you!
Ho scritto una storia d'amore senza inizio e senza fine...per scriverla con te.
I have written a love story without a beginning or ending...so that we may write it together.
Sei la ragione per cui vivo, per cui ogni giorno sorrido.
You are my reason for living, for why I smile every day.
Ho saziato la mia sete alla fontana dei tuoi baci.
I quenched my thirst at your fountain of kisses.
C'era la luna quella sera, ma quando tu te ne andasti si nascose umiliata dietro una nuvola.
There was the moon that evening, but when you left it hid behind a cloud, humiliated.
Oggi si festeggia il tuo compleanno ma io lo festeggio tutti i giorni.
Today is the celebration of your birthday but I celebrate it every day.
Senza di te la mia vita non ha senso.
Without you, my life has no meaning.
Sono anni che ti stavo cercando.
I have been searching for you for years.
Ti amero' per tutta la mia vita.
I will love you my whole life.
Hai dato un senso alla mia vita.
You have given sense to my life
Ciao, Bella.
Hello, beautiful.
Il mio cuore è per voi.
My heart is for you.
L'amore domina senza regole.
Love rules without rules.
Tu sei una stella... La mia stella.
You are a star, my star.
Ti sognero' tutta la notte fino al mattino.
I will dream of you all night until morning.
Con tutto l'affetto mio.
With all my affection.
Sono dipendente dei tuoi baci.
I'm addicted to your kisses.
Mi manchi.
I miss you.
Ho bisogno di te.
I need you.
Sei la mia stella polare.
You are my polar star.
Dove sei stato per tutta la mia vita?
Where have you been all my life?
These phrases are commonplace sayings in both the English and Italian languages.
You can coin your own romantic phrase in the Italian language. Think about the extra meaning it will have for your beloved. Use a reputable Italian translator or a phrasebook to turn your words into a linguistic piece of romantic art! You can also express your love with actions as well as with words.