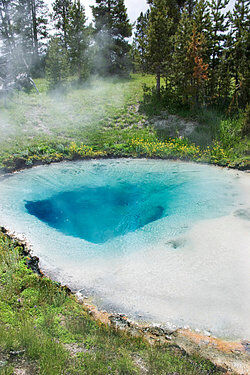 Archaebacteria are primitive, single-celled microorganisms that are prokaryotes with no cell nucleus. Each archaea has the ability to live in very severe environments.
Archaebacteria are classified as one of the six kingdoms of life that living organisms are broken into: plants, animals, protists, fungi, eubacteria (or true bacteria), and archaebacteria. Archaebacteria examples have unusual cell walls, membranes, ribosomes, and RNA sequences. They often have the ability to produce methane.
One type of archaebacteria is crenarchaeota, which can live in extreme temperatures or acidity.
Examples include:
Acidilobus saccharovorans
Aeropyrum pernix
Desulfurococcus kamchatkensis
Hyperthermus butylicus
Igniococcus hospitalis
Ignisphaera aggregans
Pyrolobus fumarii
Staphylothermus hellenicus
Staphylothermus marinus
Thermosphaera aggregans
Acidianus hospitalis
Metallosphaera cuprina
Metallosphaera sedula
Sulfolobus acidocaldarius
Sulfolobus islandicus
Sulfolobus solfataricus
Sulfolobus tokodaii
Caldivirg maquilingensis
Pyrobaculum aerophilum
Pyrobaculum arsenaticum
Pyrobaculum calidifontis
Pyrobaculum islandicum
Thermofilum pendens
Thermoproteus neutrophilus
Thermoproteus tenax
Thermoproteus uzoniensis
Vulcanisaeta distributa
Vulcanisaeta moutnovskia
Another type of archaebacteria is euryarchaeota, which include ones who produce methane or live in water with high salt content.
Examples include:
Archaeoglobus fulgidus
Archaeoglobus veneficus
Archaeoglobus profundus
Ferroglobus placidus
Halalkalicoccus jeotgali
Haloarcula hispanica
Haloarcula marismortui
Halobacterium salinarum
Halobiforma lacisalsi
Haloferax volcanii
Halogeometricum borinquense
Halomicrobium mukohataei
Halopiger xanaduensis
Haloquadratum walsbyi
Halorhabdus tiamatea
Halorhabdus utahensis
Halorubrum lacusprofundi
Haloterrigena turkmenica
Natrialba asiatica
Natrialba magadii
Natronomonas pharaonis
Methanobacterium thermoautotrophicum
Methanobrevibacter ruminantium
Methanobrevibacter smithii
Methanosphaera stadtmanae
Methanothermobacter marburgensis
Methanothermus fervidus
Methanocaldococcus fervens
Methanocaldococcus infernus
Methanocaldococcus jannaschii
Methanocaldococcus vulcanius
Methanococcus aeolicus
Methanococcus maripaludis
Methanococcus vannielii
Methanococcus voltae
Methanothermococcus okinawensis
Methanotorris igneus
Candidatus Methanoregula boonei
Methanocella paludicola
Methanocella conradii
Methanococcoides burtonii
Methanocorpusculum labreanum
Methanoculleus marisnigri
Methanohalobium evestigatum
Methanohalophilus mahii
Methanoplanus petrolearius
Methanosalsum zhilinae
Methanosaeta concilii
Methanosaeta harundinacea
Methanosaeta thermophila
Methanosarcina acetivorans
Methanosarcina barkeri
Methanosarcina mazei
Methanosphaerula palustris
Methanospirillum hungatei
Methanopyrus kandleri
Pyrococcus abyssi
Pyrococcus furiosus
Pyrococcus horikoshii
Pyrococcus yayanosii
Thermococcus barophilus
Thermococcus gammatolerans
Thermococcus kodakaraensis
Thermococcus onnurineus
Thermococcus sibiricus
Ferroplasma acidarmanus
Picrophilus torridus
Thermoplasma acidophilum
Thermoplasma volcanium
Methanogens are archaea that produce methane gas as a metabolic by-product in areas of low oxygen content. They are found in human intestines, wetlands, hot springs or geothermal vents.
Examples include these strains:
Methanobacterium bryantii
Methanobacterium formicum
Methanobrevibacter arboriphilicus
Methanobrevibacter gottschalkii
Methanobrevibacter ruminantium
Methanobrevibacter smithii
Methanocalculus chunghsingensis
Methanococcoides burtonii
Methanococcus aeolicus
Methanococcus deltae
Methanococcus jannaschii
Methanococcus maripaludis
Methanococcus vannielii
Methanocorpusculum labreanum
Methanoculleus bourgensis
Methanoculleus marisnigri
Methanofollis liminatans
Methanogenium cariaci
Methanogenium frigidum
Methanogenium organophilum
Methanogenium wolfei
Methanomicrobium mobile
Methanopyrus kandleri
Methanoregula boonei
Methanosaeta concilii
Methanosaeta thermophila
Methanosarcina acetivorans
Methanosarcina barkeri
Methanosarcina mazei
Methanosphaera stadtmanae
Methanospirillium hungatei
Methanothermobacter defluvii
Methanothermobacter thermautotrophicus
Methanothermobacter thermoflexus
Methanothermobacter wolfei
Methanothrix sochngenii
Halobacteriaceae Examples
Halobacteriaceae are archaebacteria that live in highly-saturated salty environments.
Examples include:
Haladaptatus
Halalkalicoccus
Halarchaeum
Haloalcalophilium
Haloarcula
Halobacterium
Halobaculum
Halobellus
Halobiforma
Halococcus
Haloferax
Halogeometricum
Halogranum
Halolamina
Halomarina
Halomicrobium
Halonotius
Halopelagius
Halopiger
Haloplanus
Haloquadratum
Halorhabdus
Halorientalis
Halorubrum
Halorussus
Halosarcina
Halosimplex
Halostagnicola
Haloterrigena
Halovivax
Natrialba
Natrinema
Natronoarchaeum
Natronobacterium
Natronococcus
Natronolimnobius
Natronomonas
Natronorubrum
Salarchaeum
Thermophiles are archaebacteria that live at extremely hot temperatures, as in geothermal environments.
Examples of species of the genus Sulfolobus include:
Sulfolobus acidocaldarius
Sulfolobus islandicus
Sulfolobus metallicus
Sulfolobus neozealandicus
Sulfolobus shibatae
Sulfolobus solfataricus
Sulfolobus tengchongensis
Sulfolobus thuringiensis
Sulfolobus tokodaii
Sulfolobus yangmingensis
Psychrophiles are archaebacteria that thrive in extremely cold temperatures from a polar region to the deep sea.
Examples include:
Methanogenium boonei
Methanogenium cariaci
Methanogenium frigidum
Methanogenium marinum
Methanogenium organophilum
Methanococcoides burtonii
Methanococcus aeolicus
Methanococcus maripaludis
Methanococcus vannielii
Methanococcus voltae
Methanococcus thermolithotrophicus
Methanococcus jannaschi
Other Archaebacteria Examples
Candidatus Korarchaeum cryptofilum
Nanoarchaeum equitans
Cenarchaeum symbiosum - Strain A
Cenarchaeum symbiosum - Strain B
Candidatus Nitrosoarchaeum limnia

Nitrosopumilus maritimus

Kingdoms of Life

By the mid 20th century a system of five kingdoms had become accepted as the model for classifying all living things: bacteria and the four eukaryotic kingdoms of plants, animals, fungi, and protists. In the late 1970s, Dr. Carl Woese found that there were actually distinct groups within bacteria and those that lived at high temperatures or produced methane were very different from the usual bacteria. These were classified as archaebacteria and recognized as a sixth kingdom. Woese later decided that the term archaebacteria was misleading, and shortened it to archaea.

Still interested in single-celled organisms? We'll show you the many strains of the five types of bacteria.