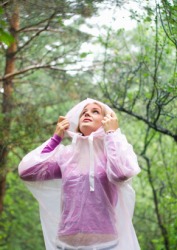 A woman wears a waterproof raincoat.
adjective
The definition of waterproof is something that keeps water out.

A plastic raincoat is an example of something that is waterproof.
---
waterproof
that keeps out water completely; esp., treated with rubber, plastic, etc. so that water will not penetrate
waterproof material

Chiefly Brit.

a raincoat or other outer garment of waterproof material
---
waterproof
adjective
Impervious to or unaffected by water.
Made of or coated or treated with rubber, plastic, or a sealing agent to prevent penetration by water.
noun
A material or fabric that is impervious to water.
Chiefly British A raincoat or other such outer garment.
transitive verb
wa·ter·proofed, wa·ter·proof·ing, wa·ter·proofs
To make impervious to water.
---
waterproof

Adjective
(comparative more waterproof, superlative most waterproof)
Unaffected by water.
Made of or covered with material that doesn't allow water in.
Verb
(third-person singular simple present waterproofs, present participle waterproofing, simple past and past participle waterproofed)
To make waterproof or water-resistant.
Noun
(plural waterproofs)
A substance or preparation for rendering cloth, leather, etc., impervious to water.
Cloth made waterproof, or any article made of such cloth, or of other waterproof material, as rubber; especially, an outer garment made of such material.
---