impervious

im·per·vi·ous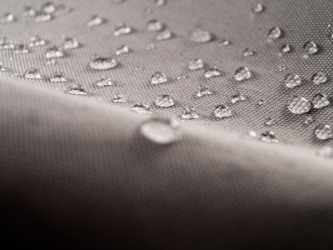 This piece of fabric is impervious to liquid.
adjective
The definition of impervious is not being able to be penetrated or not able to be hurt.

An example of impervious is a fabric that does not allow any liquid to pass through.
An example of impervious is a figurine made out of indestructible material.
---
impervious
incapable of being passed through or penetrated: a fabric impervious to moisture
: with to

not affected by: a garden chair impervious to the elements
able to withstand; not susceptible: polar bears impervious to the cold, a poet impervious to criticism
Origin of impervious
Classical Latin
impervius
: see in- and pervious
---
impervious
adjective
Incapable of being penetrated: a material impervious to water.
Incapable of being affected: impervious to fear.
Origin of impervious
From
Latin
impervius
in-
not
; see
in-
1
.
pervius
pervious
; see
pervious
.
Related Forms:
---
impervious

Adjective
(comparative more impervious, superlative most impervious)
Unaffected or unable to be affected by.

The man was completely impervious to the deception we were trying.

Preventive of any penetration; impenetrable, impermeable, particularly of water.

Although patchworked and sagging, the roof proved impervious to the weather.
Origin
From Latin impervius ("cannot be passed through"), from in- ("not") + pervius ("letting things through")
---