permeable

per·me·a·ble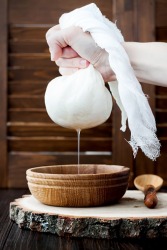 The permeable qualities of the cheese cloth allow the liquid to be squeezed from the homemade mozzarella.
adjective
The definition of permeable is a material that allows liquids or gases to pass through.

A cloth that liquids can pass right through is an example of something that would be described as permeable.
---
permeable
that can be permeated; open to passage or penetration, esp. by fluids
Origin of permeable
Middle English from Classical Latin
permeabilis
---
permeable
adjective
Capable of being permeated or penetrated, especially by liquids or gases: permeable membranes; rock that is permeable by water.
Related Forms:
---
permeable

Adjective
(comparative more permeable, superlative most permeable)
Origin
From Middle French perméable, from Latin permeabilis.
---