adjective
The definition of magnificent is something that is exceptional or amazing in appearance.

An example of magnificent are the works of artists Picasso or Michelangelo.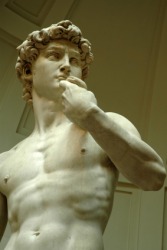 Michelangelo's David is magnificent.
---
magnificent definition by Webster's New World
adjective
beautiful in a grand or stately way; rich or sumptuous, as in construction, decoration, form, etc.
exalted: said of ideas, etc., and also of some former rulers, as Lorenzo the Magnificent

Informal

exceptionally good; excellent
Origin: Old French ; from Late Latin magnificens: see magnificence
Webster's New World College Dictionary Copyright © 2010 by Wiley Publishing, Inc., Cleveland, Ohio. Used by arrangement with John Wiley & Sons, Inc.
---
magnificent definition by American Heritage Dictionary
adjective
Splendid in appearance; grand: a magnificent palace.
Grand or noble in thought or deed; exalted.
Outstanding of its kind; superlative: a magnificent place for sailing. See Synonyms at grand.
Origin: Middle English, from Old French, from magnificence, splendor, from Latin magnificentia, from , magnificent- comparative and superlative stem of magnificus, magnificent; see magnific.
Related Forms: