magnificent
mag·nif·i·cent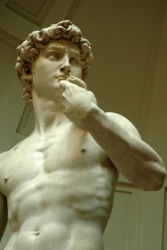 Michelangelo's David is magnificent.
adjective
The definition of magnificent is something that is exceptional or amazing in appearance.

An example of magnificent are the works of artists Picasso or Michelangelo.
---
magnificent
beautiful in a grand or stately way; rich or sumptuous, as in construction, decoration, form, etc.
exalted: said of ideas, etc., and also of some former rulers, as Lorenzo the Magnificent
exceptionally good; excellent
Origin of magnificent
Old French from Late Latin
magnificens:
see magnificence
---
magnificent
adjective
Splendid in appearance; grand: a magnificent palace. See Synonyms at grand.
Grand or noble in thought or accomplishment; exalted: a magnificent notion.
Outstanding of its kind; excellent: a magnificent place for sailing.
Origin of magnificent
Middle English
from
Old French
from
magnificence
splendor
from
Latin
magnificentia
from
magnificent-
comparative and superlative stem of
magnificus
magnificent
; see
magnific
.
Related Forms:
---
magnificent

---