magnificence
mag·nif·i·cence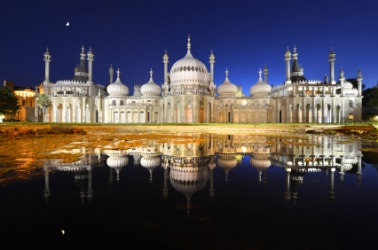 The magnificence of Brighton Palace.
noun
The definition of magnificence is splendor and lavishness.

When you go see a world famous, historical hotel and are completely impressed by the richness of the decor, this is an example of being impressed by the magnificence.
---
magnificence
richness and splendor, as of furnishings, color, dress, etc.; stately or imposing beauty
Origin of magnificence
Old French from Classical Latin
magnificentia
from
magnificus,
noble from
magnus,
great (see magni-) +
facere,
to do
---
magnificence
noun
Greatness or lavishness of surroundings; splendor.
Grand or imposing beauty.
---
magnificence

Noun
(countable and uncountable, plural magnificences)
The act of doing what magnificent; the state or quality of being magnificent.
---