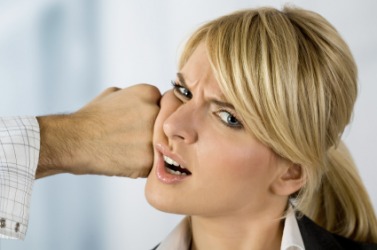 This is an outrage!
noun
The definition of an outrage is an act of violence or an insult.

An example of an outrage is someone punching another person in the face.
An example of an outrage is someone calling their friend's mother a horrible name.
verb
Outrage is defined as to deeply insult someone, or to commit a violent act against someone.

An example of outrage is putting acid in a person's shampoo bottle.
---
outrage
an extremely vicious or violent act
a deep insult or grave offense
great anger, indignation, etc. aroused by such an act or offense
Origin of outrage
Old French from
outre,
beyond from Classical Latin
ultra
(see ultra): meaning influenced, influence by associated, association with out and rage
transitive verb
-·raged·

,

-·rag·ing
to commit an outrage upon or against; specif.,

to offend, insult, or wrong grievously
to rape

to cause great anger, indignation, etc. in
---
outrage
noun
An act of extreme violence or viciousness: outrages committed by the dictatorship.
Something that is grossly offensive to decency, morality, or good taste: viewed the film as an outrage to common decency.
Resentful anger aroused by a violent or offensive act, or an instance of this: The incident sparked a public outrage.
transitive verb
out·raged, out·rag·ing, out·rag·es
To offend grossly against (standards of decency or morality); commit an outrage on.
To produce anger or resentment in: was outraged that he was lied to. See Synonyms at offend.
Origin of outrage
Middle English
from
Old French
from
outre
beyond
; see
outré
.
---
outrage

Verb
(third-person singular simple present outrages, present participle outraging, simple past and past participle outraged)
to cause or commit an outrage upon; to treat with violence or abuse.
---