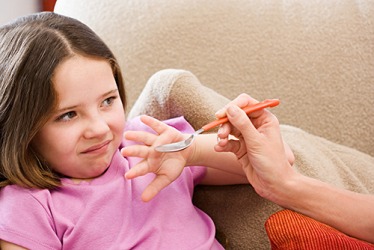 Rebecca rebuffed the medicine that her mother tried to give her because she didn't like the taste.
verb
To rebuff is to reject someone or something in an abrupt way.

When someone asks you on a date and you turn them down by telling them you don't like the way they dress, this is an example of a time when you rebuff.
---
rebuff
an abrupt, blunt refusal of offered advice, help, etc.
any check or repulse
Origin of rebuff
Middle French
rebuffe
from Italian
rabbuffo
from
rabbuffare,
to disarrange, altered by metathesis (prob. influenced, influence by
buffare,
to blow) from
baruffare,
to scuffle from Langobardic an unverified form
biraufan,
akin to Old High German
biroufan,
to tussle, pluck out
to refuse bluntly; snub
to check or repulse
---
rebuff
noun
A blunt or abrupt repulse or refusal, as to an offer.
A check or an abrupt setback to progress or action: a rebuff to his ambitions.
transitive verb
re·buffed, re·buff·ing, re·buffs
To reject bluntly, often disdainfully; snub: rebuff a person making advances; rebuff a request. See Synonyms at refuse1.
To repel or drive back: rebuffed the attack.
Origin of rebuff
From
obsolete French
rebuffer
to reject
from
Italian
ribuffare
from
ribuffo
reprimand
ri-
back
(
from
Latin
re-
; see
re-
. )
buffo
gust, puff
(
of imitative origin
)
---
rebuff

Noun
(plural rebuffs)
A sudden resistance or refusal.

He was surprised by her quick rebuff to his proposal.

Repercussion, or beating back.
Verb
(third-person singular simple present rebuffs, present participle rebuffing, simple past and past participle rebuffed)
To refuse; to offer sudden or harsh resistance; to turn down or shut out.
To buff again.
---