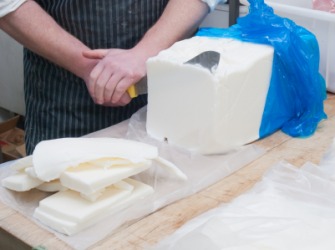 A person cutting a large block of lard.
Licensed from iStockPhoto
---
noun
the soft, white solid made by melting down and clarifying the fat of hogs, esp. the inner abdominal fat
Origin: OFr from Classical Latin lardum, bacon fat, lard from Indo-European base an unverified form lai-, fat from source Glassical Greek larinos, fattened, fat, Classical Latin largus, large
transitive verb
to cover or smear with lard or other fat; grease
to put strips of fat pork, bacon, etc. over, or into slits in (meat or poultry) before cooking; interlard
to add to; embellish; garnish: a talk larded with jokes
Origin: ME larden < OFr larder
Webster's New World College Dictionary
Copyright © 2010 by Wiley Publishing, Inc., Cleveland, Ohio.
Used by arrangement with John Wiley & Sons, Inc.
---
noun
The white solid or semisolid rendered fat of a hog.
transitive verb
lard·ed
,
lard·ing
,
lards
To cover or coat with lard or a similar fat.
To insert strips of fat or bacon in (meat) before cooking.

a. To enrich or lace heavily with extra material; embellish: larded the report with quotations.

b. To fill throughout; inject: "The history of Sicily was larded with treachery" (Mario Puzo).
Origin: Middle English, from Old French larde, from Latin lārdum.
Related Forms:
The American Heritage® Dictionary of the English Language
, 4th edition Copyright © 2010 by Houghton Mifflin Harcourt Publishing Company. Published by Houghton Mifflin Harcourt Publishing Company. All rights reserved.