garnish

gar·nish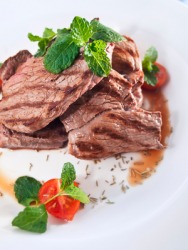 Roast lamb with a garnish of mint.
noun
The definition of a garnish is a decorative topping.

An example of a garnish is a cherry and pineapple on top of a pina colada.
verb
Garnish is defined as to add decorative items to something or to withhold wages to satisfy a legal order to repay a debt.

An example of to garnish is to top a bowl of soup with a sprig of parsley.
An example of to garnish is to send $250 a week of an employee's wages to the court for the employee's child support debt.
---
garnish
to decorate; adorn; embellish; trim
to decorate (food) with something that adds color or flavor: a steak garnished with parsley

Law

to attach as a result of a garnishment
Origin of garnish
Middle English
garnischen
from extended stem of Old French
garnir
, to furnish, protect from Germanic an unverified form
warnjan
from source warn
a decoration; ornament
something put on or around food to add color or flavor, as parsley or watercress

Obs.

a fee, esp. one formerly extorted from new prisoners by inmates of English jails or by the jailer
---
garnish
transitive verb
gar·nished, gar·nish·ing, gar·nish·es
a. To enhance in appearance by adding decorative touches; embellish: a coat that was garnished with a fur collar.

b. To decorate (prepared food or drink) with small colorful or savory items: garnished the potatoes with parsley.

Law

a. To seize (property such as wages) by garnishment.

b. To serve (someone) with papers announcing the garnishment of that person's property in order to satisfy a debt.
noun
An ornamentation or embellishment, especially one added to a prepared food or drink for decoration or added flavor.
Origin of garnish
Middle English
garnishen
from
Old French
garnir
garniss-
of Germanic origin
; see
wer-
4
in Indo-European roots.
---
garnish

Verb
(third-person singular simple present garnishes, present participle garnishing, simple past and past participle garnished)
Noun
(plural garnishes)
A set of dishes, often pewter, containing a dozen pieces of several types.
Pewter vessels in general.
Something added for embellishment; decoration; ornament; also, dress; garments, especially when showy or decorated.
(cooking) Something set round or upon a dish as an embellishment.
(slang, historical) A fee; specifically, in English jails, formerly an unauthorized fee demanded from a newcomer by the older prisoners.
Origin
From Middle English garnischen, from Old French garniss-, stem of certain forms of the verb garnir, guarnir, warnir ("to provide, furnish, avert, defend, warn, fortify, garnish"), from a conflation of Old Frankish *warnjan ("to refuse, deny") and *warnōn ("warn, protect, prepare, beware, guard oneself"), from Proto-Germanic *warnijaną ("to worry, care, heed") and Proto-Germanic *warnōną ("to warn"); both from Proto-Indo-European *wer- ("to defend, protect, cover"). Cognate with Old English wiernan ("to withhold, be sparing of, deny, refuse, reject, decline, forbid, prevent from, avert") and warnian ("to warn, caution, take warning, take heed, guard oneself against, deny"). More at warn.
---
garnish - Legal Definition
v
To seize a debtor's property, held by a third party, in order to recover a debt; commonly against debtor's earnings from an employer.
---