petroleum

pe·tro·le·um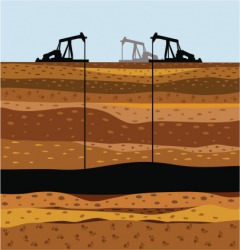 Drilling for petroleum underground.
noun
Petroleum is an oily mixture of hydrocarbons that can be extracted from layers of rock and used to produce fuel.

The hydrocarbons in rock strata that are used to produce the gas in your car are an example of petroleum.
---
petroleum
an oily, flammable, liquid solution of hydrocarbons, yellowish-green to black in color, occurring naturally in the rock strata of certain geological formations: when fractionally distilled, it yields paraffin, fuel oil, kerosene, gasoline, etc.
Origin of petroleum
Medieval Latin from Classical Latin
petra,
rock ( from Gr) +
oleum,
oil
---
petroleum
noun
A thick, flammable, yellow-to-black mixture of gaseous, liquid, and solid hydrocarbons that occurs naturally beneath the earth's surface, can be separated into fractions including natural gas, gasoline, naphtha, kerosene, fuel and lubricating oils, paraffin wax, and asphalt and is used as raw material for a wide variety of derivative products.
Origin of petroleum
Middle English
from
Medieval Latin
petrōleum
Latin
petra
rock
; see
petrous
. Latin
ōleum
oil
; see
oil
.
---
petroleum

Noun
(plural petroleums or petrolea)
A flammable liquid ranging in color from clear to very dark brown and black, consisting mainly of hydrocarbons, occurring naturally in deposits under the Earth's surface.
---