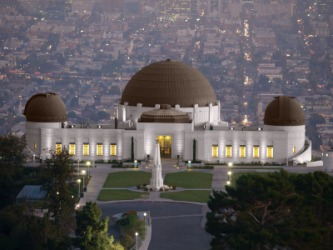 Griffith Park Observatory in Los Angeles.
Licensed from iStockPhoto
---
noun
pl.
observatories
a building equipped for scientific observation, esp. such a building with a large telescope for astronomical research
an institution for such research

any building or place providing an extensive view of the surrounding terrain
Origin: ModL observatorium from past participle of Classical Latin observare: see observe
Webster's New World College Dictionary
Copyright © 2010 by Wiley Publishing, Inc., Cleveland, Ohio.
Used by arrangement with John Wiley & Sons, Inc.
---
noun
pl.
ob·ser·va·to·ries
A building, place, or institution designed and equipped for making observations of astronomical, meteorological, or other natural phenomena.
A structure overlooking an extensive view.
Origin: French observatoire (influenced by conservatory), from observer, to observe, from Old French; see observe.
The American Heritage® Dictionary of the English Language
, 4th edition Copyright © 2010 by Houghton Mifflin Harcourt Publishing Company. Published by Houghton Mifflin Harcourt Publishing Company. All rights reserved.