overhaul

o·ver·haul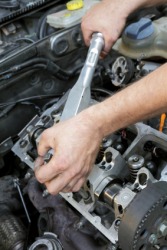 A mechanic overhauls a car.
verb
Overhaul is defined as to examine and make necessary repairs, or to catch up with someone or something.

An example of overhaul is a mechanic looking over your car to find out what needs to be fixed.
An example of overhaul is to drive quickly and go beyond a car on the road.
---
overhaul
to haul over, as for examination

to check thoroughly for needed repairs
to make the repairs, adjustments, etc. needed to restore (a motor, etc.) to good working order

to gain on, catch up with, or overtake
an overhauling; thorough examination or restoration to good working order
---
overhaul
transitive verb
o·ver·hauled, o·ver·haul·ing, o·ver·hauls
a. To examine thoroughly and make any needed repairs: overhauled the engine to check for problems.

b. To revise extensively: proposals to overhaul the health care system.

Nautical To slacken (a line) or to release and separate the blocks of (a tackle).
Chiefly British To catch up with; overtake: overhauled the fugitive after a six-hour chase.
noun
An act of overhauling.
A repair job.
Related Forms:
---
overhaul

Noun
(plural overhauls)
A major repair, remake, renovation, or revision.

The engine required a complete overhaul to run properly.

(firefighting) The process after the fire appears extinguished in which the firefighters search the structure for signs of hot spots that may cause the structure to reignite. Often this includes the process of salvage under the blanket term, salvage and overhaul.
Verb
(third-person singular simple present overhauls, present participle overhauling, simple past and past participle overhauled)
(nautical) To keep (running rigging) clear, and see that no hitch occurs.
---