patrol

pa·trol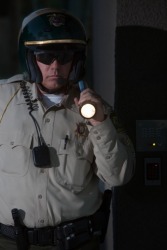 A security person on patrol.
noun
Patrol means the act of regularly guarding an area, or someone or a group who does the guarding.

An example of a patrol is a team of police officers assigned to watch a particular area.
verb
Patrol is defined as to regularly guard an area.

An example of patrol is for public safety staff to drive around a campus at night.
---
patrol
transitive verb
intransitive verb
-·trolled′

,

-·trol′ling
to make a regular and repeated circuit of (an area, town, camp, etc.) in guarding or inspecting
Origin of patrol
French
patrouiller,
altered from Old French
patouiller,
to paddle, puddle, patrol from
pate,
paw: see patois
the act of patrolling
a person or persons patrolling

a small group of soldiers sent on a mission, as for reconnaissance
a group of ships, airplanes, etc. used in guarding

a subdivision of a troop of Boy Scouts or Girl Scouts
Origin of patrol
Fr
patrouille
< the
v.
---
patrol
noun
The act of moving about an area especially by an authorized and trained person or group, for purposes of observation, inspection, or security.
A person or group of persons who perform such an act.

a. A military unit sent out on a reconnaissance or combat mission.

b. One or more military vehicles, boats, ships, or aircraft assigned to guard or reconnoiter a given area.

A division of a Boy Scout troop or Girl Scout troop consisting of between six and eight children.
verb
pa·trolled, pa·trol·ling, pa·trols
verb
transitive
To engage in a patrol of.
verb
intransitive
To engage in a patrol.
Origin of patrol
French
patrouille
from
patrouiller
to patrol
alteration of
Old French
patouiller
to paddle about in mud, patrol
probably from
pate
paw
; see
patois
.
Related Forms:
---
patrol

Noun
(plural patrols)
(military) A going of the rounds along the chain of sentinels and between the posts, by a guard, usually consisting of three or four men, to insure greater security from attacks on the outposts.
(military) A movement, by a small body of troops beyond the line of outposts, to explore the country and gain intelligence of the enemy's whereabouts.
(military) The guard or men who go the rounds for observation; a detachment whose duty it is to patrol.
Any perambulation of a particular line or district to guard it; also, the men thus guarding; as, a customs patrol; a fire patrol.
(Scouting) A unit of a troop, typically composed of around eight boys.
Origin
From French patrouille, from Old French patrouille, patouille ("a night-watch", literally "a tramping about"), from patrouiller, patouiller, patoiller ("to paddle or pudder in water, dabble with the feet, begrime, besmear"), from patte, pate ("paw, foot of an animal"), from Vulgar Latin *patta ("paw, foot"), from Frankish *patta ("paw, sole of the foot"), from Proto-Germanic *paþjanÄ…, *paþōnÄ… ("to walk, tread, go, step, pace"), possibly from Proto-Indo-European *(s)pent-, *(s)pat- ("path; to walk"), a variant of Proto-Indo-European *pent-, *pat- ("path; to go"); see find. Cognate with Dutch pad, patte ("paw"), Low German pedden ("to step, tread"), German patschen ("to splash, smack, dabble, waddle"), German Patsche ("a swatter, beater, paw, puddle, mire"). Related to pad, path.
Verb
(third-person singular simple present patrols, present participle patrolling, simple past and past participle patrolled)
(intransitive) To go the rounds along a chain of sentinels; to traverse a police district or beat.
To go the rounds of, as a sentry, guard, or policeman; as, to patrol a frontier; to patrol a beat.
---
patrol - Computer Definition
An application management suite from BMC that uses agents to report on software activities on all the servers within the enterprise. Using the information in "knowledge modules" (KMs) about each system component, agents detect events, collect information and notify system and network administrators to take corrective action.
---