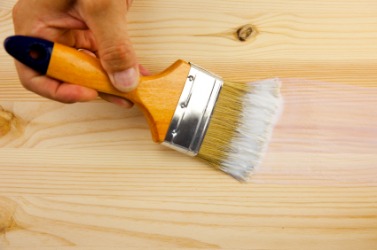 Lacquer being applied to a wood floor.
noun
The definition of a lacquer is a substance used to coat something. It is made of solvents with dissolved nitrocellulose.

Facts About Lacquer

Lacquer can be tinted.
Lacquer produces a hard, glossy surface that is resistant to weather, dirt, and grime and is easy to wipe clean.
Lacquer is usually sprayed on as a top coat.
Lacquer dries very rapidly.
Lacquer is very flammable and care must be used with the application method and usage to ensure that no fire hazard exists.
The chemicals in lacquer can cause an exothermic reaction, meaning that as they dry, they can produce heat. This can cause rags or other disposed cleaning products to potentially spontaneously combust.
Lacquer is often used for outdoor surfaces.

An example of a lacquer is a tough, shiny coating for a wooden floor.
verb
Lacquer is defined as to coat something with a resin material.

An example of lacquer is to cover a wooden floor with a shellac or resin.
---
lacquer
a coating substance consisting of resinous materials, as cellulose esters or ethers, shellac, or gum or alkyd resins, dissolved in ethyl alcohol or another solvent that evaporates rapidly on application, leaving a tough, adherent film: pigments are often added to form

lacquer enamels

a resinous varnish obtained from certain Chinese and Japanese trees (esp. Toxicodendron vernicifluum) of the cashew family, used to give a hard, smooth, highly polished finish to wood
a decorative article or articles made of wood and coated with this lacquer

in full

lac′quer·ware·

or

lac′quer·work·
Origin of lacquer
French
laquer
, earlier
lacre
from Portuguese from
laca
, gum lac from Hindi
l?kh
: see lac
to coat with or as with lacquer
---
lacquer
noun
Any of various clear or colored synthetic coatings made by dissolving nitrocellulose or other cellulose derivatives together with plasticizers and pigments in a mixture of volatile solvents and used to impart a high gloss to surfaces.
A glossy, resinous material, such as the processed sap of the lacquer tree, used as a surface coating.
A finish that is baked onto the inside of food and beverage cans.
transitive verb
lac·quered, lac·quer·ing, lac·quers
To coat with lacquer.
To give a sleek, glossy finish to.
Origin of lacquer
Obsolete French
lacre
sealing wax
from
Portuguese
from
lacca
resin of the lac insect
from
Arabic
lakk
; see
lac
1
.
Related Forms:
---
lacquer

Verb
(third-person singular simple present lacquers, present participle lacquering, simple past and past participle lacquered)
To apply a lacquer to something or to give something a smooth, glossy finish.
Origin
From French lacre ("a sort of sealing wax"), from Portuguese laca, lacca ("gum lac"); see lac.
---