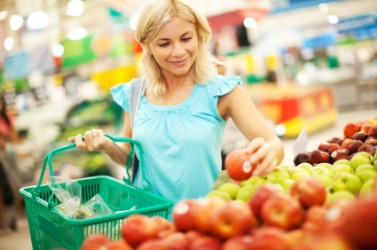 A young woman shopping at a grocery store.
noun
The definition of a grocery is a store where food is bought, or the items for sale there.

An example of a grocery is Trader Joe's.
---
grocery
noun
pl.
-·cer·ies
a grocer's store
[pl.] the food and supplies sold by a grocer
Origin of grocery
Middle English
grocerye
from Old French
grosserie
---
grocery
noun
pl.
gro·cer·ies
A store selling foodstuffs and various household supplies. Also called grocery store .
groceries Commodities sold by a grocer.
---
grocery

Usage notes
When referring to goods, the singular form is primarily used attributively, as in a grocery bill, a grocery list, etc. The plural form, groceries, is much more frequently used to refer to actual goods, especially in the US.
---