boutique

bou·tique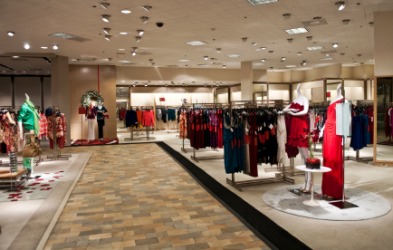 The interior of a women's clothing boutique.
noun
The definition of a boutique is a store where trendy, often expensive, clothing is sold.

An example of boutique is an independent store on Rodeo Drive that carries designer clothing.
---
boutique
a small shop, or a small department in a store, where fashionable, usually expensive, clothes and other articles are sold
a small, often exclusive agency or firm offering specialized services, as in advertising, investments, or law
Origin of boutique
French from Classical Latin
apotheca
: see apothecary
---
boutique
noun
a. A small retail shop that specializes in gifts, fashionable clothes, accessories, or food, for example.

b. A small shop located within a large department store or supermarket.

A small business offering specialized products and services: an investment boutique; a health-care boutique.
Origin of boutique
French
from
Old French
botique
small shop
from
Old Provençal
botica
from
Latin
apothēca
storehouse
; see
apothecary
.
---
boutique

Adjective
(not comparable)
Specialized in bespoke or custom-made products for clientele in a niche market.
Noun
(plural boutiques)
A small shop, especially one that sells fashionable clothes, jewelry and the like.
A small shop located within a larger one.
A film production company making only a few movies per year.
---
boutique - Investment & Finance Definition
A small, specialized brokerage or financial firm that offers a limited number of services and products. Typically, boutiques are started by people who leave large Wall Street firms, either because of a desire to create their own company or as a result of losing their job through a downsizing or firing. A boutique typically employs anywhere from a few people to several hundred people, compared with a global financial company that employs several hundred thousand people.
---