plaza

pla·za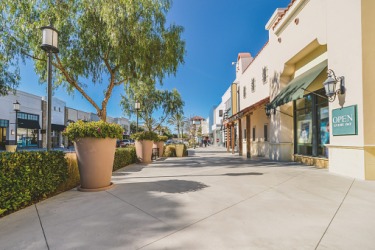 Stores in a shopping plaza.
noun
The definition of a plaza is a public square, or a shopping area.

An example of a plaza is a local mall.
---
plaza
a public square or marketplace in a city or town
an open area, usually paved, between a building and the street or another building, often having statues, shrubs, etc.

a complex of shops or buildings, esp. a shopping center
a service area along a superhighway, with a restaurant, gas station, etc.
Origin of plaza
Spanish from Classical Latin
platea:
see place
---
plaza
noun
A public square or similar open area in a town or city.

a. A widened roadway forming the approach to tollbooths on a highway.

b. A parking or service area next to a highway.

A shopping center.
Origin of plaza
Spanish
from
Vulgar Latin
plattea
from
Latin
platea
broad street
; see
place
.
---
plaza

Noun
(plural plazas)
a town's public square.
an open area used for gathering in a city, often having small trees and sitting benches.
---