pueblo

Pueb·lo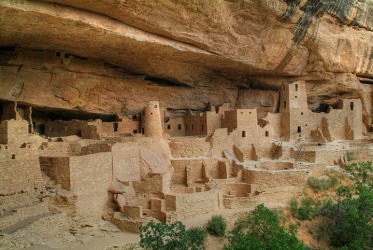 Pueblo structures at Mesa Verde, Colorado
noun
The definition of a pueblo is an communal village of Latin Americans, Southwest US Indians or Spanish Americans.

An example of a pueblo is a group of Native Americans living in a small community.
---
pueblo
noun
pl.
a type of communal village built by certain Amerindian peoples of the SW U.S. and parts of Latin America, consisting of one or more flat-roofed structures of stone or adobe, arranged in terraces and housing a number of families
[P-] a member of any of the peoples inhabiting pueblos, as a Zuni or Hopi
any Indian village in the SW U.S.
in Spanish America, a village or town
in the Philippines, a municipality; town or township
Origin of pueblo
Sp, village, people from Classical Latin
populus
, people
Pueblo
city in SC Colo., on the Arkansas River
Origin of Pueblo
see pueblo
---
Pueblo
noun
pl.
Pueblo,
or
Pueb·los
a. Any of some 25 Native American peoples, including the Hopi, Zuni, and Taos, living in established villages in northern and western New Mexico and northeast Arizona. The Pueblo are considered to be descendants of the cliff dwellers and are noted for their skilled craft in pottery, basketry, weaving, and metalworking.

b. A member of any of these peoples.

pueblo pl. pueb·los A village or community of any of the Pueblo peoples, traditionally consisting of multilevel adobe or stone apartment dwellings of terraced design clustered around a central plaza.
Origin of Pueblo
American Spanish
from
Spanish
people, pueblo
from
Latin
populus
people
; see
public
.
Word History:
The word
pueblo
ultimately comes from the Latin word meaning "people,"
populus,
also the source of other English words like
population
and even
people
itself, by way of Old French
pueple.
As the spoken Latin of Spain developed into the Spanish language, Latin
populus
became Spanish
pueblo,
meaning "town, village," as well as "nation, people." The 16th-century Spanish explorers who visited the area naturally used this word to refer to the distinctive adobe and stone villages of the Pueblo peoples, in which some buildings rose as high as five stories.
Pueblo
first appears in English as a word for the distinctive villages of the Pueblo peoples, and it later came to be used to refer to the peoples living in the villages.
A city of southeast-central Colorado south of Colorado Springs on the Arkansas River. It was founded in the mid-1800s and grew as a coal-mining center.x
---
pueblo

---