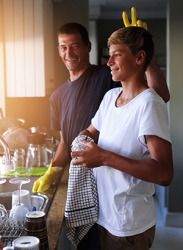 To foster positive self esteem in teenagers, it is important for parents to enjoy spending time with them and showing them that they are a valued part of the family.
noun
Esteem is defined as the perceived worth that someone or something is afforded.

An example of esteem is the worth of a president who everyone likes.
verb
To esteem is defined as to respect, have regard for or admire something.

An example of esteem is to think very highly of a smart person.
---
esteem
to have great regard for; value highly; respect
to hold to be; consider; regard: we esteem it an honor to be invited
Origin of esteem
Middle English
estemen
from Old French
estimer
from Classical Latin
aestimare
, to value, appraise, estimate; probably from an unverified form
ais-temos
, one who cuts copper, mints money from Indo-European an unverified form
ayos-
(L
aes
), brass, copper (see ore) + an unverified form
tem-
, to cut: see -tomy
favorable opinion; high regard; respect: to be held in high esteem

Archaic

an opinion; estimation
---
esteem
transitive verb
es·teemed, es·teem·ing, es·teems
To regard with respect; prize. See Synonyms at appreciate.
To regard as; consider: esteemed it an honor to help them.
noun
Favorable regard; respect. See Synonyms at regard.
Archaic Judgment; opinion.
Origin of esteem
Middle English
estemen
to appraise
from
Old French
estimer
from
Latin
aestimāre
---
esteem

---