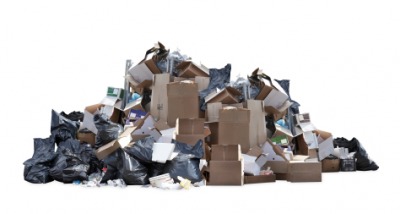 A heap of garbage.
noun
The definition of a heap is a pile, mound or a large number of things.

An example of a heap is a pile of garbage laying outside.
verb
Heap is defined as to make a big pile or to give large amounts of something.

An example of to heap is to make a big stack of clothes.
---
heap
a pile, mass, or mound of things jumbled together
[often pl.]

Informal

a great number or amount: a heap of toys, heaps of money

Slang

an automobile, esp. an old, dilapidated one
Origin of heap
Middle English
hepe
, a troop, heap from Old English
heap
, a troop, band, multitude, akin to German
hauf(en)
, Dutch
hoop
from Indo-European an unverified form
keub-
from base an unverified form
keu-
, bend, arch from source hop, hive
to make a heap of; bring together into a pile
to give or supply in large amounts; load: to heap gifts upon someone
to fill (a plate, dry measure, etc.) full or to overflowing
to accumulate or rise in a heap, or pile
---
heap
noun
A group of things placed or thrown, one on top of the other: a heap of dirty rags lying in the corner.
often heaps Informal A great deal; a lot: We have heaps of homework tonight.
Slang An old or run-down car.
transitive verb
heaped, heap·ing, heaps
To put or throw in a pile: heaped the clothes on the bed.
To fill completely or to overflowing: heap a plate with vegetables.
To bestow in abundance or lavishly: heaped praise on the rescuers.
Origin of heap
Middle English
from
Old English
hēap
---
heap

Noun
(plural heaps)
A pile or mass; a collection of things laid in a body, or thrown together so as to form an elevation.

a heap of earth or stones

A great number or large quantity of things.
Verb
(third-person singular simple present heaps, present participle heaping, simple past and past participle heaped)
To pile in a heap.

He heaped the laundry upon the bed and began folding.

To form or round into a heap, as in measuring.
To supply in great quantity.

They heaped praise upon their newest hero.
Origin
Middle English heep, from Old English hēap, from Proto-Germanic *haupaz (cf. Dutch hoop, Low German Hupen, German Haufen), from Proto-Indo-European *koupos 'hill' (cf. Lithuanian kaũpas, Albanian qipi 'stack', Avestan [script?] (kaofa))
---
heap - Computer Definition
In programming, it refers to a common pool of memory that is available to the program. The management of the heap is either done by the applications themselves, allocating and deallocating memory as required, or by the operating system or other system program.
---