pyre

pyre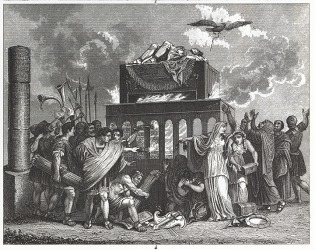 An illustration of a Roman Emperor funeral pyre.
noun
The definition of a pyre is a pile of wood meant to be burnt, or a fire used to burn a corpse in a funeral.

An example of a pyre is what the Nazis used for burning the bodies of dead Jewish people during the Holocaust.
---
pyre
a pile, esp. of wood, on which a dead body is burned in a funeral rite
Origin of pyre
Classical Latin
pyra
from Classical Greek from
pyr
, fire
---
pyre
noun
A heap of combustibles for burning a corpse as a funeral rite.
A pile of combustibles.
Origin of pyre
Latin
pyra
from
Greek
purā
from
pūr
fire
; see
paəw&rlowring;
in Indo-European roots.
---
pyre

Origin
Latin pyra ("pyre, funeral pile"), from Ancient Greek πυρά (pura), from πῦρ (pÅ«r, "fire"), from Proto-Indo-European *péhâ''ur. Etymological twin to fire.
---