phoenix

Phoenix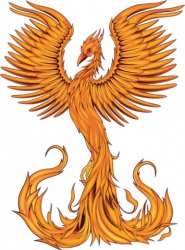 phoenix
noun
Phoenix is the capital of Arizona or is defined as a mythological bird that destroyed itself with fire over 500 years ago and then came back to life, or someone or something that is very beautiful.

An example of Phoenix is the largest city in Arizona.
An example of a phoenix is an Egyptian bird from a myth.
An example of a phoenix is a gorgeous piece of art work.
---
phoenix
Egypt. Myth.

a beautiful, lone bird which lives in the Arabian desert for 500 or 600 years and then sets itself on fire, rising renewed from the ashes to start another long life: a symbol of immortality
[P-] a S constellation between Eridanus and Grus
Origin of phoenix
altered (infl. by L) from Old English and Old French
fenix
from Classical Latin
phoenix
from Classical Greek
phoinix,
phoenix, dark-red, Phoenician, akin to
phoinos,
blood-red, deadly
Phoenix
capital of Ariz., in the SC part, near the Salt River
Origin of Phoenix
in allusion to the phoenix
---
phoenix
also phe·nix
noun
Mythology A bird in Egyptian mythology that lived in the desert for 500 years and then consumed itself by fire, later to rise renewed from its ashes.
A person or thing of unsurpassed excellence or beauty; a paragon.
Phoenix A constellation in the Southern Hemisphere near Tucana and Sculptor.
Origin of phoenix
Middle English
fenix
from
Old EnglishOld French
both from
Medieval Latin
fēnix
from
Latin
phoenix
from
Greek
phoinix
phoenix
Phoenix
The capital and largest city of Arizona, in the south-central part of the state northwest of Tucson. Founded in the 1860s on the site of an ancient Hohokam settlement, it became territorial capital in 1889 and state capital in 1912.x
---
phoenix

Noun
(plural phoenix or phoenixes)
(mythology) A mythological bird, said to be the only one of its kind, which lives for 500 years and then dies by burning to ashes on a pyre of its own making, ignited by the sun. It then arises anew from the ashes.
(figuratively) Anything that is reborn after apparently being destroyed. Usually used as a simile.

Astronomers believe planets might form in this dead star's disk, like the mythical Phoenix rising up out of the ashes.

(mythology) A mythological Chinese chimerical bird whose physical body symbolizes the six celestial bodies.
Origin
From Latin phoenÄ«x, from Ancient Greek φοῖνιξ (phoÄ©nix), from Egyptian bnw (boinu, "grey heron"). The grey heron was venerated at Heliopolis and associated in Egypt with the cyclical renewal of life because the bird rises in flight at dawn and migrates back every year in the flood season to inhabit the Nile waters.
Origin
From Latin phoenīx, from Ancient Greek φοῖνιξ (phoinix), Φοῖνιξ (Phoinix)
Proper noun
Alternative spelling of Phoenix.
See also:
Phoenix
---