buoyancy
[bo̵i′ən sē; also bo̵̅o̅′yən-]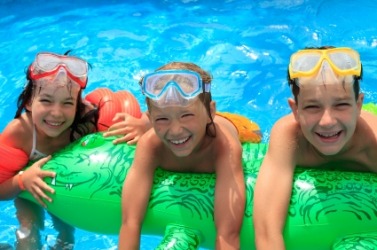 Children enjoying the buoyancy of their inflatable water toy.
adjective
The definition of buoyancy refers to whether something can float in water or air, or the power of water or other liquids to keep water afloat, or an optimistic disposition.

An example of buoyancy is when a boat floats in water.
An example of buoyancy is when salt water has the ability to help things float.
An example of buoyancy is a cheerful person who is grateful for her job and who is generally happy and optimistic.
---
buoyancy
noun
the ability or tendency to float or rise in liquid or air
the power to keep something afloat; upward pressure on a floating object
lightness or resilience of spirit
Origin of buoyancy
; from buoyant
---
buoyancy
noun
a. The tendency or capacity to remain afloat in a liquid or rise in air or gas.

b. The upward force that a fluid exerts on an object less dense than itself.

Ability to recover quickly from setbacks; resilience.
Lightness of spirit; cheerfulness.
---
buoyancy
---