noun
The definition of a bouy is a floating object that is anchored to warn of danger or to mark a location.

An example of a bouy is a floating post with a light that shows the entry to the harbor.
verb
To buoy is defined as to raise someone's spirits or to keep something or someone afloat.

An example of buoy is when you try to cheer up someone who has just been fired and to encourage him to keep his hopes up.
An example of buoy is when a life jacket helps to keep you afloat.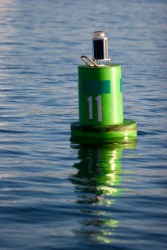 A channel marking buoy floating in a bay.
---
buoy definition by Webster's New World
noun
a floating object anchored in a lake, river, etc. to mark a channel, warn of a hazard, etc., variously shaped and colored, and often equipped with a bell or light
a similar but larger and heavier object, usually with a ring on top, to which a ship can be moored

life buoy
Origin: Middle English ; from (? via Middle Dutch boeie) Old French buie, chain ; from Classical Latin boia, fetter (see boy): probably first applied to the chain anchoring the float
transitive verb
to mark or provide with a buoy
to keep afloat: usually with up
to lift up or keep up in spirits; encourage: usually with up
Origin: < Sp boyar, to float
Webster's New World College Dictionary Copyright © 2010 by Wiley Publishing, Inc., Cleveland, Ohio. Used by arrangement with John Wiley & Sons, Inc.
---
buoy definition by American Heritage Dictionary
noun
A float moored in water to mark a location, warn of danger, or indicate a navigational channel.
A life buoy.
transitive verb
buoyed
,
buoy·ing
,
buoys
To keep afloat or aloft: a glider buoyed by air currents.

a. To maintain at a high level; support: "the persistent … takeover speculation, which has buoyed up the shares of banks" (Financial Times).

b. To hearten or inspire; uplift: "buoyed up by the team spirit and the pride of the older generation back at home" (Judith Martin).

To mark with or as if with a buoy.
Origin: Middle English boie, from Old French boue, probably of Germanic origin; see bhā-1 in Indo-European roots.