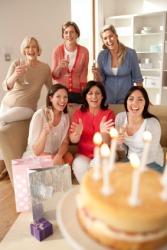 A group displays gaiety at a party.
noun
Gaiety is defined as a state or feeling of being happy or cheerful, or it refers to entertainments, amusements or light-hearted fun.

Cheerful festivities and celebrations are an example of gaiety.
A state of happiness is an example of gaiety.
---
gaiety
the state or quality of being gay (adjective); cheerfulness
pl.

-·ties

merrymaking; festivity
finery; showy brightness
Origin of gaiety
French
gaieté
---
gaiety
also gay·e·ty
noun
pl.
gai·e·ties,
also
gay·e·ties
A state of joyful exuberance or merriment; vivacity.
Merry or joyful activity; festivity: making preparations for the holiday gaieties.
Bright color or showiness, as of dress; finery.
Origin of gaiety
French
gaieté
from
Old French
from
gai
cheerful
; see
gay
.
---
gaiety

Noun
(countable and uncountable, plural gaieties)
(uncountable)  The state of being happy.

There was much gaiety at the ball.
The decorations added greatly to the gaiety of the room.

(countable)  Merrymaking or festivity.
---