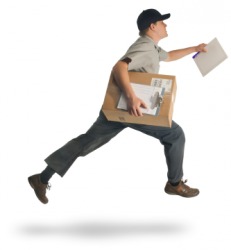 This package is being delivered with haste.
noun
The definition of haste is speed or urgency.

An example of haste is how quickly a package is delivered; delivered with haste.
An example of haste is the hurrying of a catering staff to get food served; working with haste.
---
haste
the act of hurrying; quickness of motion; rapidity
the act of hurrying carelessly or recklessly: haste makes waste
necessity for hurrying; urgency: an air of haste marks the undertaking
Origin of haste
Middle English from Old French from Frankish an unverified form
haist
, violence, akin to Old English
hæst
from Indo-European base an unverified form
?eibh-
, quick, violent from source Sanskrit
?ibham
, quick
transitive verb
intransitive verb
hast′ed

,

hast′ing
in haste
in a hurry
in too great a hurry; without enough care
---
haste
noun
Rapidity of action or motion: the haste with which she climbed the stairs.
Rash or headlong action; precipitateness: forgot the tickets in their haste to catch the train.
intr. & tr.v.
hast·ed, hast·ing, hastes
Archaic
To hasten or cause to hasten.
Origin of haste
Middle English
from
Old French
of Germanic origin
---
haste

Noun
(uncountable)
Speed; swiftness; dispatch.

We were running late so we finished our meal in haste.
Verb
(third-person singular simple present hastes, present participle hasting, simple past and past participle hasted)
To urge onward; to hasten
(intransitive) To move with haste.
Origin
Blend of Middle English hasten (verb), (compare Dutch haasten, German hasten, Danish haste, Swedish hasta ("to hasten, rush")) and Middle English hast ("haste", noun), from Old French haste (French: hâte) , from Old Frankish *haist, *haifst ("violence") , from Proto-Germanic *haifstiz ("struggle, conflict"), from Proto-Indo-European *ḱēybʰ- ("fast, snell, fierce"). Akin to Old Frisian hāst, hāste ("haste"), Old English hǣst ("violence"), Old English hǣste ("violent, impetuous, vehement", adj), Old Norse heift/heipt ("feud"), Gothic (haifsts, "rivalry"). Cognate with German and Danish heftig ("vehement").
---