pious

pi·ous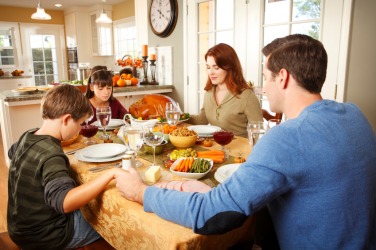 A pious family saying grace before dinner.
adjective
The definition of pious is someone or something that is devoted to religion.

An example of pious is someone who goes to church every Sunday and studies the Bible throughout the week.
---
pious
having or showing religious devotion; zealous in the performance of religious obligations
springing from actual or pretended religious devotion or moral motives
seemingly virtuous; affecting virtue hypocritically
sacred, as distinguished from secular or profane

Archaic

having or showing a sense of duty and loyalty to family, friends, etc.
Origin of pious
Classical Latin
pius,
pious, devout, affectionate, good, probably from Indo-European an unverified form
pw?yos
from base an unverified form
peu-,
to clean from source Classical Latin
purus,
pure
---
pious
adjective
a. Earnestly compliant in the observance of religion; reverent or devout: a pious nun.

b. Showing or characterized by religious devotion: pious observance.

c. Expressive of or used in religious devotion; devotional: pious readings.

a. Done for the benefit of others or with the intention of encouraging good: practicers of the noble lie and the pious fraud.

b. Sincere but wishful or far-fetched: a pious hope that the new method will work.

Self-righteous or sanctimonious: pious denunciations of sexual harassment.
Archaic Professing or exhibiting traditional morality; dutiful.
Origin of pious
From
Latin
pius
dutiful
Related Forms:
---
pious

Usage notes
Sometimes used pejoratively, in the sense of "mistaken" or "false" piety, as in "pious errors", "pious frauds".
Origin
From Latin pÄ«us ("pious, dutiful, blessed, kind, devout"), from Proto-Indo-European *pey- ("to adore"). Cognate with Old English fÇ£le ("faithful, trusty, good; dear, beloved"). More at feal.
---