piety

pi·e·ty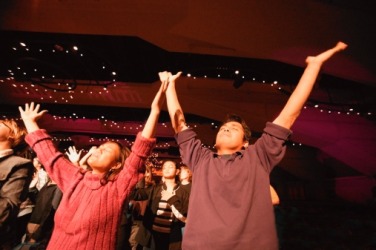 The congregation expressed their piety by opening their arms when the music played.
noun
Piety is defined as devotion and reverence to religious practices and God.

An example of piety is going to church.
---
piety
devotion to religious duties and practices
loyalty and devotion to parents, family, etc.
pl.

-·ties

a pious act, statement, belief, etc.
Origin of piety
Old French
pieté
from Ecclesiastical Late Latin
pietas,
duty to God from L, dutiful conduct, scrupulousness from
pius:
see pious
---
piety
noun
pl.
pi·e·ties
The state or quality of being pious, especially:

a. Religious devotion and reverence.

b. Devotion and reverence to parents and family: filial piety.

A devout act, thought, or statement.

a. A position held conventionally or hypocritically.

b. A statement of such a position: "the liberated pieties of people who believe that social attitudes have kept pace with women's aspirations" ( Erica Abeel )
Origin of piety
Middle English
piete
mercy, pity
from
Old French
from
Latin
pietās
dutiful conduct
from
pius
dutiful
---
piety

Noun
(countable and uncountable, plural pieties)
(uncountable) reverence and devotion to God

Colleen's piety led her to make sacrifices that most people would not have made.
---