adjective
The definition of devout is dedicated to religion or sincere.

An example of devout is a Catholic who has unending faith in God, attends Mass every Sunday and follows all of the practices.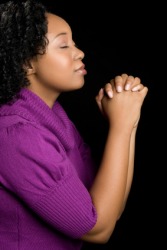 A devout woman praying.
---
devout definition by Webster's New World
adjective
very religious; pious
showing reverence
earnest; sincere; heartfelt
Origin: Middle English ; from Old French devot ; from Classical Latin devotus, devoted (in Ecclesiastical Late Latin devout): see devote
Webster's New World College Dictionary Copyright © 2010 by Wiley Publishing, Inc., Cleveland, Ohio. Used by arrangement with John Wiley & Sons, Inc.
---
devout definition by American Heritage Dictionary
adjective
de·vout·er
,
de·vout·est
Devoted to religion or to the fulfillment of religious obligations. See Synonyms at religious.
Displaying reverence or piety.
Sincere; earnest: devout wishes for their success.
Origin: Middle English, from Old French, from Latin dēvōtus, past participle of dēvovēre, to vow; see devote.
Related Forms: