devout

de·vout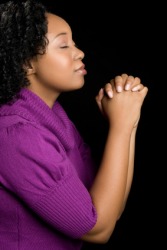 A devout woman praying.
adjective
The definition of devout is dedicated to religion or sincere.

An example of devout is a Catholic who has unending faith in God, attends Mass every Sunday and follows all of the practices.
---
devout
very religious; pious
showing reverence
earnest; sincere; heartfelt
Origin of devout
Middle English from Old French
devot
from Classical Latin
devotus
, devoted (in LL(Ec), devout): see devote
---
devout
adjective
de·vout·er, de·vout·est
a. Devoted to a religion or to the fulfillment of religious obligations: a devout Catholic.

b. Characterized by religious devotion or piety: devout observance of the holy days.

a. Fervently believing in or advocating an ideology or position: a devout socialist.

b. Fervent or earnest: devout wishes for their success.
Origin of devout
Middle English
from
Old French
from
Latin
dēvōtus
past participle of
dēvovēre
to vow
; see
devote
.
Related Forms:
---
devout

Adjective
(comparative devouter or more devout, superlative devoutest or most devout)
Devoted to religion or to religious feelings and duties; absorbed in religious exercises; given to devotion; pious; reverent; religious.
(archaic) Expressing devotion or piety.

devout sighs; devout eyes; a devout posture
Noun
(plural devouts)
(obsolete) A devotee.
(obsolete) A devotional composition, or part of a composition; devotion.
Origin
From Old French devot (French dévot)
---