congregation

con·gre·ga·tion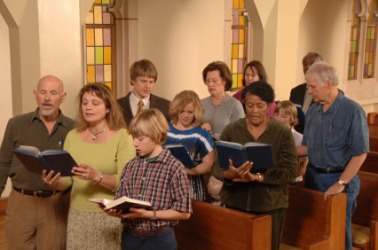 The congregation of a church.
noun
The definition of a congregation is a gathering of people, or people who share the same faith and habitually attend the same church.

All of the people who attend a particular church are an example of the church's congregation.
---
congregation
a congregating or being congregated
a gathering of people or things; assemblage
an assembly of people for religious worship or teaching
the members of a particular place of worship
a settlement, town, or parish in the colonies of early New England where Congregationalism was established

Bible

the whole body or assembly of Israelites

R.C.Ch.

any of certain religious communities following a common rule
a division of an order, made up of a group of monasteries
a committee, as of cardinals, in charge of some department of church affairs
Origin of congregation
Middle English
congregacioun
from Old French
congregation
or Classical Latin
congregatio,
an assembling (in ML(Ec), religious community)
---
congregation
noun
The act of assembling.
A body of assembled people or things; a gathering.

a. A group of people gathered for religious worship.

b. The members of a specific religious group who regularly worship at a church or synagogue.

Roman Catholic Church

a. A religious institute in which only simple vows, not solemn vows, are taken.

b. A division of the Curia.
---
congregation

Noun
(plural congregations)
A gathering of faithful in a temple, church, synagogue, mosque or other place of worship. It can also refer to the people who are present at a devotional service in the building, particularly in contrast to the pastor, minister, imam, rabbi etc. and/or choir, who may be seated apart from the general congregation or lead the service (notably in responsary form).
A Roman Congregation, a main department of the Vatican administration of the universal church
A corporate body whose members gather for worship, or the members of such a body.
The collective noun for eagles.
Origin
From Old French congregacion, from Latin congregātiō, from congregare "to herd together", itself from com- "together" + gregare "to collect into a flock, gather" (from grex "a flock, herd"); adopted c.1340 by the English Bible translator William Tyndale, to render the Greek (ekklesia) ('those called together, (popular) meeting'; hence Latin ecclesia 'church') in his New Testament, and preferred by 16th century Reformers instead of church.
See also:
congrégâtion
---