mud

MUD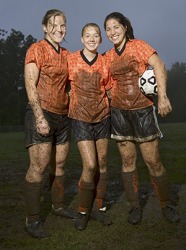 The soccer team was completely covered in mud by the end of the game.
noun
Mud is wet or sticky dirt, or nasty and uncomplimentary remarks about someone.

An example of mud is what dirt turns into after a heavy rain.
An example of mud is when a politician accuses his opponent of doing something illegal; the politician would be slinging mud.
---
mud
wet, soft, sticky earth
defamatory remarks; libel or slander
Origin of mud
ME, probably from a Low German source as in
mudde
from Indo-European an unverified form
meut
from base an unverified form
meu-,
wet, musty from source moss, mother
transitive verb
mud′ded

,

mud′ding
to cover or soil with or as with mud; muddy
---
mud
noun
Wet, sticky, soft earth, as on the banks of a river.
Slang Wet plaster, mortar, or cement.
Slanderous or defamatory charges or comments: slinging mud at his opponent.
transitive verb
mud·ded, mud·ding, muds
To cover or spatter with or as if with mud.
Origin of mud
Middle English
mudde
probably from
Middle Low GermanMiddle Dutch
modde
MUD
noun
A computer program, usually running over the internet, that allows multiple users to participate in virtual-reality role-playing games.
Origin of MUD
m(ulti-)u(ser) d(ungeon)
m(ulti-)u(ser) d(imension)
m(ulti-)u(ser) d(omain)
Related Forms:
---
mud

Noun
(countable and uncountable, plural muds)
(construction industry slang) Wet concrete as it is being mixed, delivered and poured.
(figuratively) Willfully abusive, even slanderous remarks or claims, notably between political opponents.

The campaign issues got lost in all the mud from both parties.

(slang) Money, dough, especially when proceeding from dirty business.
(gay sex, slang) stool that is exposed as a result of anal sex
Verb
(third-person singular simple present muds, present participle mudding, simple past and past participle mudded)
To make muddy, dirty
To make turbid
(intransitive, Internet) To participate in a MUD, or multi-user dungeon.
Origin
Unattested in Old English; probably cognate with (perhaps directly borrowed from) Middle Dutch modde, Middle Low German modde, mudde (Low German Mudd), (Dutch modder). Non-Germanic cognates include Albanian mut ("filth, excrement").
Acronym
(video games, online gaming) An interactive online environment in which players may jointly engage in fantasy role-playing games.
Origin
From Multi-User Dungeon
---
mud - Computer Definition

A multi-user dungeon scenario used in computer gaming.
See Also: LambdaMOO.
---
(MultiUser Dungeon, MultiUser Dimension, MultiUser Dialogue) Interactive games played by several people at a time on the Internet. Originally dungeons and dragon games with demons, elves and magicians, MUDs have been created for science fiction themes, cartoon characters and other types of games. MUDs have also evolved into 3D virtual reality sites. There are many variations and permutations of MUDs. MOOs are object-oriented MUDs, and MUSEs (Multiuser Shared Environments) are generally designed for elementary and secondary students. A MUSH (MultiUser Shared Hallucination) allows new rooms and situations to be created. A MUCK (MultiUser Chat Kingdom) is a text-based MUD system similar to MUSH, and there is yet another MUCK (MultiUser Construction Kit), heavy on fantasy and myth. See avatar and VRML.
---